Dragline bucket specialist in gravel extraction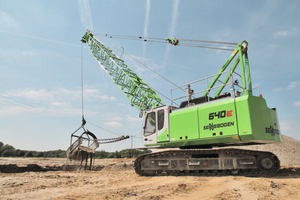 Quelle/Source: SENNEBOGEN
Der neue SENNEBOGEN 640 der E-Serie überzeugt beim der Firmengruppe Hans Wolf im Schleppschaufeleinsatz in der Kiesgewinnung • The new SENNEBOGEN 640 of the E-series convinces the Hans Wolf corporate group with dragline bucket use in gravel extraction
Quelle/Source: SENNEBOGEN
W  ith the new SENNEBOGEN 640 HD of the current
E-series, Hans Wolf GmbH & Co KG of Straubing/Germany has been successfully using a new 40 t duty cycle crawler crane equipped with a dragline bucket for gravel extraction (Fig.). The machine completely convinced them after a short trial operation.
The Hans Wolf group of companies from Straubing has a close network of gravel plants and transport companies in Lower Bavaria and the Upper Palatinate. Sand and gravel in particular are extracted from the ground along the Danube river by the third generation. The use of duty cycle crawler cranes with dragline buckets has proven its worth for this for decades. A new gravel plant is currently being created in the district of Regensburg. While the sieving and sorting plant is still under construction, a SENNEBOGEN 640 HD duty cycle crawler crane of the latest generation is performing preparatory work there.
Equipped with a powerful 186 kW CAT diesel engine, operator Karl Schwaiger digs around 1500 m³ of gravel per day from a depth of up to 6 m with the 640. Here, two 12 t freefall winches ensure an optimal pulling force for the 2.5 yd³ drag bucket. The powerful slewing drive and the optimized fairlead allow fast cycle times. Schwaiger mines around 150 m³ from the ground on average per hour and praises the easy handling and high capacity of the modern duty cycle crawler crane.
Thanks to the telescopable crawler chassis, the 40 t duty cycle crawler crane stands firmly and safely on its 700 mm 3-grouser base plates. Compact dimensions and an easy ballast mounting system also save time and money when transporting between operation sites. The modern MaxCab comfort cab provides the operator with an ergonomic work environment. Numerous headlights and supplemental surrounding cameras ensure a convenient all-around view and the highest level of work safety. The SENCON diagnostic and control system supports the operator in daily operation. An automated dragline bucket and the fuel-saving ECO mode ensure efficient and pleasant work in day-to-day operation.