Reliable operation of belt conveyors
Quality control of belt conveyors and chains to prevent downtime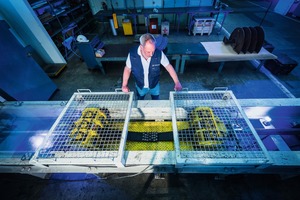 Quelle/Source: TÜV Rheinland Werkstoffprüfung GmbH
1 Qualitätsprüfung an Fördergurten und Gurtverbindungen. Die Verbindungsfestigkeit der Gurtverbindung darf nicht geringer als die des Gurtes sein • Quality testing on conveyor belts and belt joints. The strength of the belt joint should not be lower than that of the belt
Quelle/Source: TÜV Rheinland Werkstoffprüfung GmbH
B‌elt conveyors transport bulk solids over large distances. Depending on the application, the conveyors can reach lengths up to 100 km. The conveyor belts are exposed to high stresses caused by the bulk solids they carry and prevailing high tensile forces. Besides belt conveyors, chains are used in conveyors and are also exposed to high static and dynamic stresses. Conveyor downtime incurs high costs. For this reason, the quality and operational reliability of belt conveyors and chains should be ensured already before their installation and also during their operation.
TÜV Rheinland Werkstoffprüfung offers in cooperation with the testing service of RAG AG possibilities to assess the operational reliability of conveyors as an accredited testing laboratory and an accredited inspection body. Particular focus is on quality, inspection and serviceability testing of belt conveyors and chains.
At the end of 2018, coal mining will be phased out in Germany and the last mine in the Ruhr district will close its gates in ­Bottrop. That does not mean, however, that the expert know-how amassed over the decades at RAG on quality assurance, materials testing, and damage analysis of belt conveyors and chains will simply fall down a mining shaft and be lost. Since April 2017, there has been close cooperation between RAG and TÜV Rheinland, with the aim of securing this expert knowledge and to offer testing services with the accustomed "RAG quality" even after 2018. From 2019, work at the testing facility located directly next to the shaft tower at the Pluto Colliery in Herne will be continued under the direction of TÜV Rheinland Werkstoffprüfung.
The DIN EN ISO 17 025-accredited testing laboratory offers services in classical materials testing, like, for example, mechanical-technological material testing, metallographic or metallurgical testing on metallic components. On this basis, complex damage analyses on metallic components in compliance with VDI 3822 are included in the laboratory portfolio. Non-destructive material testing, like, for ­example, ultrasonic testing of welded seams or castings are also routine. A USP of the laboratory are, however, tests on belt and chain conveyors as used to convey coal, ores or bulk solids in general.
The conveyor belt itself accounts for a significant part of the costs incurred for the belt conveyor installation. Its quality ­determines to a significant extent the production reliability of the belt conveyor operation. To minimize unscheduled production downtime and associated costs, the as-is state and therefore the quality of the conveyor belt and the joints should be checked prior to installation and commissioning and compared to ­specifications. The portfolio of the laboratory ­includes ­numerous accredited tests on steel cord and textile belt ­conveyors for both coal mining and general applications.
Chain testing accounts for an equally large part of the ­testing work in the laboratory. For mechanical tests like breaking strength tests or fatigue strength tests on chains, several testing set-ups are available to a static/dynamic load limit of 2500 kN (250 t). These can be used to simulate the high loads on round, flat or steel link chains and estimate lifetimes in the scope of operational strength tests. Besides equipment for mechanical tests on chains, the laboratory has metallographic testing methods for assessment of the material microstructure and therefore the heat treatment state or the efficacy of surface hardening of the chain material. The corrosion properties of chains can also be tested. For this purpose, several accredited testing methods are available, like the salt spray test in compliance with DIN EN ISO 9227. Apart from the standard, additional custom-specific corrosion tests are routine for the employees of the RAG and TÜV Rheinland Werkstoffprüfung.
Quality tests are an appropriate means to identify quality ­defects on belt or chain conveyors already prior to installation. As a result, high costs caused by downtime and production loss can be reduced considerably or even avoided. In comparison with that, the costs for a quality inspection are low and such an inspection should therefore be a part of any process for the acquisition of conveyors.
Further information:
TÜV Rheinland Werkstoffprüfung GmbH
Wilhelmstrasse 98 (Gebäude 11)
44649 Herne
Dr.-Ing. Sebastian Kühn
Email:   Sebastian.Kuehn@de.tuv.com:Sebastian.Kuehn@de.tuv.com%3C/a%3E">
Telefon: +49 221 806-2826