Mining heritage
Schneeberg/Ore Mountains Mining Association celebrates 25th anniversary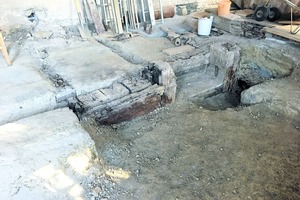 Quelle/Source: Uwe Bruder
1 Ausgrabung des historischen Pochstuhls. Hier wird das neue Pochwerk errichtet • Excavation of the historical battery frame. Here the new stamping mill is being set up
Quelle/Source: Uwe Bruder
O‌n the eve of an open day for historical monuments, on 7 September 2019, the Bergbauverein Schneeberg/­Erzgebirge e.V., a mining association for the Schneeberg/Ore Mountains Region, celebrated its 25-year anniversary. The celebratory event was attended by sponsors and representatives from industry, science and politics. In his address, Schneeberg's Mayor Ingo Seifert, himself a member of the Association, spoke about the work that had already done and thanked the sponsors, without whose support the Association would not have been able to complete its work. Having evolved from the cultural association of the GDR on 29 May 1994, the Association is dedicated to the research and the preservation of mining heritage in the region around Schneeberg.
In accordance with the Association's articles, numerous mining artefacts from the history of the extraction of silver, cobalt, bismuth and other useful minerals have been refurbished or rebuilt with the support of the Association and preserved as contemporary witnesses for posterity. With the takeover of the stamping mill in 2003 at the Wolfgangmassen Mine, many years of work, which continues to this day, began on the refurbishment of one of the most important artefacts of cobalt extraction in the Schneeberg district. The fact that the Wolfgangmassen Mine has now also become part of the new world heritage mining region of the Ore Mountains/Krušnohorˇí fills the members of the Mining Association with special pride.
Visitors can find an interesting artefact that not only represents the history of mining itself, but also of those trades associated with mining. The Association looks after its own underground section, which formerly had reached a depth of over 400 m. Following prior registration, a small part of this area is also accessible for visitors, too.
In the building itself, visitors can view the mine's carpentry, "Der Buttersepp" as well as an exhibition on the Wolfgangmassen Mine. At public events, the drilling of pipes and the making of ropes are demonstrated. In a special smelting furnace, the smelting of bismuth is also demonstrated. In a separate building is the mine smithery. In recent years, the washing room has been completely renovated and shows the visitors how the ores extracted underground were processed to produce concentrates for smelting and blue dye works. After historical descriptions and drawings, mineral processing machines have been faithfully reproduced. This equipment can be viewed in operation. Besides the historical equipment, modern mineral processing machines are shown in action. Most of these machines have been donated by sponsors of the Mining Association. The historical processing is also used for experimental research of the operation of the individual machines. There are notes on their set-up and construction, but hardly any records on the operation of the actual processes.
The Association has dedicated itself to educating the younger generation and holds special events for school pupils and students. After prior consultation, school classes and interested groups can register for a tour.
Contact partner:
Volkmar Müller, Tel. +49 162 4359 984, volmuel@web.de:volmuel@web.de%3C/a%3E">
Karsten Georgi, Tel. +49 172 3628 040, kgeorgi@t-online.de:kgeorgi@t-online.de%3C/a%3E">