Economical in mining operations
Third Liebherr L 586 XPower® wheel loader for the Rinsche gravel plant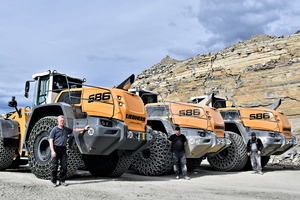 © Liebherr
1 Wilhelm Rinsche (left), together with two machine operators, presents the company's three Liebherr L 586 XPower® wheel loaders
© Liebherr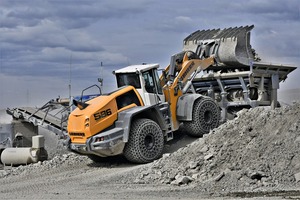 © Liebherr
2 A Liebherr L 586 XPower® wheel loader loading a crusher at the Rinsche gravel plant
© Liebherr
I‌n the Soest Börde in the heart of North Rhine-Westphalia, the Rinsche stone quarry extracts "German bluestone" and "Anröchter greenstone" also known as "Anröchter dolomite" as a core product – a particular sandstone with blue and green colouring that is popular around the world as a high-quality and natural building material. The Rinsche family business also mines large quantities of gravel. The company has 35 employees and owns three quarries in the area between Münster and Sauerland from which it removes approximately 500 000 t of material annually.  Three L 586 XPower® wheel loaders supplied by Liebherr play a significant part in this. The wheel loaders operate with impressively low consumption levels and high performance in load-and-carry operations they move up to 12 t of limestone marl per loading cycle.
A third Liebherr L 586 XPower® wheel loader was recently added to the machine park of the Rinsche gravel plant in Anröchte. The key factor in the recent acquisition were the positive experiences of the two previous L 586 XPower® wheel loaders purchased by Managing Director Wilhelm Rinsche in 2019. "With its power split driveline, our L 586 use only around 20 l of diesel per operating hour. This is approximately 12 l less than a comparable wheel loader from another manufacturer which we previously had in the quarry. The Liebherr wheel loaders enable us to achieve huge cost savings and greatly reduced CO2 emissions," explains Wilhelm Rinsche.
Liebherr L 586 XPower® wheel loaders perform ­impressively in load-and-carry operations
The low fuel consumption is particularly worth noting because the wheel loaders, weighing more than 33 t, are fitted with a range of special equipment for mining operations. The tyre protection chains are particularly distinctive and weigh up to 800 kg each depending on the version. Their main purpose is to improve traction in combination with the automatic self-locking differential. "The limestone soil in our quarries gets muddy and slippery particularly when it has been raining and this means we need the tyre protection chains," explains Wilhelm Rinsche.
The main task of the wheel loader is to transport blasted material from the quarry face to the crusher. In this load-and-carry operation, the machines cover distances of up to 200 m. The wheel loaders also help with reloading. "Besides the low fuel consumption, we appreciate the consistently high power our Liebherr wheel loaders provide. Whether it's picking up material at the quarry face, travelling or reloading, the wheel loaders always deliver the full power output," adds Wilhelm Rinsche.
"The L 586 XPower® is Liebherr's largest wheel loader model and – like all XPower® wheel loaders – comes with the robust and efficient power-split travel drive as standard. We are delighted, since the first demonstration in the quarry in 2018, to now be delivering the third L 586 XPower® to Wilhelm Rinsche and his team," explains Wilfried Holz during the machine hand-over procedure.