Simple and quick cleaning
Continuous mixer in use in Europe's largest gold mine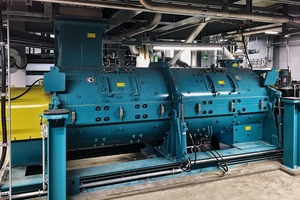 Quelle/Source: Lödige
1 Speziell für die Anforderungen der Agnico Eagle Finland Oy wurden an einem horizontalen Pflugschar-Mischer vom Typ KM 4200 DW einige Anpassungen vorgenommen • To meet the requirements of Agnico Eagle Finland Oy, some adaptations were made to a horizontal ploughshare mixer of the type KM 4200 DW
Quelle/Source: Lödige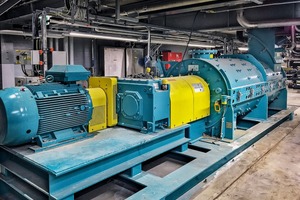 Quelle/Source: Lödige
2 Die Maschine punktet mit der automatisierten, klappbaren Oberhälfte der Mischtrommel, die eine leichte und gründliche Reinigung ermöglicht • The machine's automated, folding mixing drum top section, which permits easy and thorough cleaning, make it an excellent choice
Quelle/Source: Lödige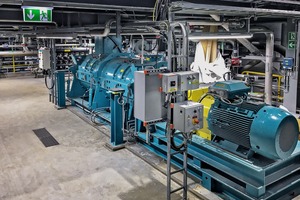 Quelle/Source: Lödige
3 Die für Agnico Eagle Finland Oy entwickelte Lösung ist nicht nur wartungsarm und effizient, der Intensiv-Mischer zeichnet sich auch durch eine sehr robuste Konstruktion aus • The mixing elements are shaped to ensure continuous product transport. The solution developed for Agnico Eagle Finland Oy is not just low-maintenance and efficient; the intensive mixer is also characterised by its highly sturdy design
Quelle/Source: Lödige
I‌ndustries that handle fast-hardening mixing products which cause significant wear demand high throughput rates, but also – and in particular – quick, simple machine cleaning procedures. This also goes for Europe's largest gold mine in northern Finland. Here, the mill tailings are mixed with cement before being pumped back into the cavities created by the excavation. The continuous mixer KM 4200 DW supplied by Lödige Process Technology is specially designed for these challenges. For instance, its sealing system is particularly effective and it is equipped with a hydraulic device to permit automatic opening of the top horizontal drum section.
In Lapland, about 900 km north of Helsinki, Agnico Eagle Finland Oy operates Europe's largest gold mine. The company, a subsidiary of the Canadian mining company Agnico Eagle Mines Ltd., intends to extract over 5 tons of pure gold in the Kittilä mine in 2019 alone. A current expansion project to permit excavation in deeper layers is expected to increase this volume by another 25 % from 2021 onwards. It goes without saying that this process generates huge volumes of mill tailings. These tailings are then mixed with water and cement and pumped back into underground cavities created by the gold mining process.
The special challenge of this process: The mixture of mill tailings, water and cement hardens very quickly. However, many continuous mixers are full of areas in which materials can accumulate. Before now, removing these deposits was extremely time-consuming. For this reason, Agnico Eagle Finland Oy started to look for an efficient, long-lived solution for mixing mill tailings, which also had to be particularly easy to clean without any remaining residue.
Ploughshare mixer with application-specific design
Lödige Process Technology has been producing mixers for various applications for 80 years. To meet the requirements of the Finnish customer, some adaptations were made to a horizontal ploughshare mixer of the type KM 4200 DW: The drum is designed with an axial division, facilitating hydraulic opening for high-maintenance work. This permits easy access to the entire mixing compartment, making it easy to clean. Due to the pasty to liquid consistency of the mixed materials, the greatest challenge was secure sealing of the machine. Lödige solved this problem by developing a new sealing system for pasty, sludge-like products. In addition, the Lödige mixer is characterised by low dwell times and high throughput rates, as a continuous intensive mixer KM 4200 DW permits throughput rates of 86 m³/h.
Well-established mixing principle
A high mixing unit speed is what makes these rates possible. This speed is permitted by the special arrangement of shovels, the basic form of which was patented by Lödige in 1949. Other methods introduced to mixing technology by Lödige are the centrifugal and fluidisation process, which the intensive mixer KM 4200 DW also uses: In a horizontal, cylindrical drum, the ploughshare shovels rotate close to the walls. The circumference speed and geometric shape of these mixing tools is designed so that they throw the mixing components from the product bed into the free mixing compartment and lift them off the drum wall against the centrifugal force. This generates a mechanical fluidised bed, in which the entire product mixture is constantly gripped, resulting in extremely thorough mixing, even with high mixture throughput and short dwell times. The mixing elements are shaped to ensure continuous product transport. The solution developed for Agnico Eagle Finland Oy is not just low-maintenance and efficient; the intensive mixer is also characterised by its highly sturdy design.
Conclusion
Agnico Eagle Finland Oy requires an easily cleaned, low-maintenance mixer with a high throughput rate for its mines. Lödige's continuous ploughshare mixer KM 4200 DW is a sturdy solution that is perfectly adapted to the requirements of the company's Finnish location. The machine's automated, folding mixing drum top section, which permits easy and thorough cleaning, and its high throughput rates of approx. 86 m³/h make it an excellent choice.
Autor/Author:
Bastian Tigges, Gebr. Lödige Maschinenbau GmbH