Crushing plant BMD RA 700/6 – a constant in the rental park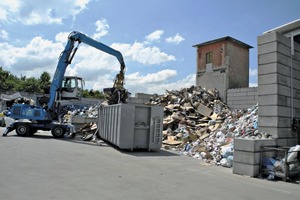 1 Geschäftiges Treiben auf dem Landauer Wertstoffhof • Busy activity at the Landau-based recycling centre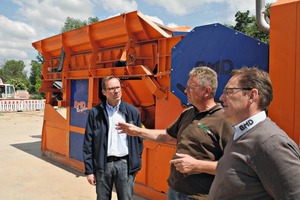 2 Um die Vorteile der BMD RA 700/6 geht es im Fachgespräch zwischen Clemens Hubert, BMD-Baumaschinendienst (l) und Peter Gerach, Firma Gerach, sowie Martin Kriener, BMD-Baumaschinendienst (r) • Clemens Hubert from BMD-Baumaschinendienst (left), Peter Gerach from the Gerach Company and Martin Kriener from BMD-Baumaschinendienst (right) discuss the advantages of the BMD RA 700/6
The company Gerach, Landau, is the right place in southern Palatinate as regards leasing or buying of construction machinery and equipment, containers or manufactured gases. Furthermore, this company is a certified waste management facility for the recycling centre in Landau and deals with the sale of building materials (Fig. 1). Peter Gerach has the crushing plant RA 700/6 from the Heidelberg-based manufacturer BMD-Baumaschinendienst available for leasing as part of his machinery and equipment.
"To include this crushing plant in our range of products, i.e. excavators, wheeled loaders, containers and many other technical equipment for the construction sector – civil engineering, building construction as well as garden and landscaping construction - was more or less inevitable. With our construction machinery and equipment we are involved in the earthwork, material and demolition work of those leasing them. For quite a while now they just do not want to have the demolition waste recycled via our recycling centre, but they want to get recycling material locally via the crushing of bricks, clinker, sand-lime bricks and concrete. We responded to this requirement and consequently our BMD RA 700/6 is continuously operating at permanently changing locations in our region, i.e. about 20 km in the vicinity of Landau", Gerach explained the procedure regarding his service provider.
During the discussion at the business premises of 18 000 m² in Queichheim, a district of Landau, it turned out that the crushing plant is preferred by the small and medium-sized building trade for individual tasks. The plant scores points even with several thousand tons of demolition waste, e.g. as regards the demolition of single-family houses up to multiple dwellings, with a crusher capacity of 50 to 80 t/h depending on the particle size. With its compact dimensions, it can be transported to the sites with a three-axle roll-off tipper on hooks (Fig. 2).
During a visit in Landau the manageable dimensions quickly became clear (Fig. 3). The interaction between weight and axle distribution was exactly adjusted to the three-axle carrier vehicles. The bin walls are hydraulically hinged upwards for operation, the telescopic conveyor belt is moved out and crushing can begin via an economic diesel engine direct drive. Marco Gerach, one of the sons of the owner, considers the great technical advantage of the BMD RA 700/6 as follows: "The discharge chute (vibrating chute) diagonally installed below the crusher provides optimum accessibility and downtimes as well as expensive conveyor belt damage are effectively avoided. Further advantages are the magnetic separator for concrete reinforcing bars and the dust suppression by means of water spray. These are all technical refinements, which, together with an adequate noise generation, lead to great acceptance by the leasing customers."