Smart control
Heavy-duty filter press for mining concentrates and tailings
T‌he new ME2500 filter press completes ANDRITZ's ­proven A4F and the SE series filter presses for the mining and minerals industry that feature highest efficiency, durability, and outstanding operating safety.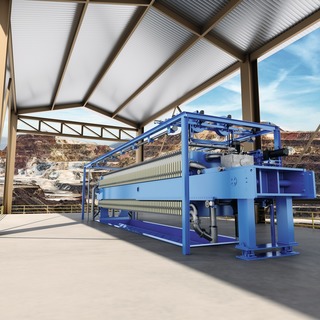 ANDRITZ filter press ME2500
© ANDRITZ

ANDRITZ filter press ME2500

© ANDRITZ

The ME2500 is the best fit for fast processing of tailings (also with high clay content) or mining concentrates such as of iron, copper, lead or zinc. The special, cost-efficient design of this new model with an hourly capacity of up to 450 kg/m² and a filtration area of up to 840 m² features chained plates for the fastest filter cake discharge, enables the highest throughputs without compromising on safety and also reflects the customer focus on saving water. The innovative closure system of the ME2500, which largely replaces hydraulic components with electrical ones, further reduces cycle times, thus increasing capacity and operating availability. The increased use of electrical components enables highly sustainable operation of the filter press by reducing the amount of hydraulic oil needed as well as improving safety thanks to more precise control and less reliance on high-pressure lines that are susceptible to leaks.

In addition, and to further optimize the productivity of single machines or plants with multiple filter presses, all modules of the ANDRITZ intelligent filter press – controlled by the Metris addIQ control system – are also available for the ME2500 filter press and can be provided with the full range of options, drawing on smart sensors, data analytics, and augmented reality including multiple sensors to allow online safety monitoring of the plate package and moveable parts.