Innovative approach in moving bulk materials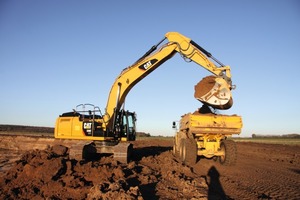 Quelle/Source: Zeppelin
1 Der Kettenbagger soll möglichst effizient Dumper beladen • The tracked excavator has to load dumpers as efficiently as possible
Quelle/Source: Zeppelin
The goal is to move as much as possible and as cost efficiently as possible, whether this is for large-scale earth-moving, unloading ships or moving overburden. For such jobs, LFT Lüdeke, a family-run business, has invested in a 40-tonne track-mounted machine. The company used to use 30-tonne track excavators, but because the volumes of overburden material have increased over time – the company is now working with two crews – and this has had consequences for the size of the construction machines and their charge weight. To keep operating costs as low as possible, the company chose an innovative option: LFT Lüdeke in Langenhagen near Hanover is using the first Cat Hybrid Excavator 336E H in Northern Germany for its loading jobs.
Essentially the company was looking for a tracked excavator that could load the dumper trucks as efficiently as possible (Fig. 1). What convinced Thomas Lüdeke and his father Dieter Lüdeke, who jointly manage operations as Managing Directors, was the concept on which the hybrid excavator is based. "Many think that the Cat 336E H is an electric hybrid. But that's incorrect. We're dealing here with a hydraulic hybrid," explains Michael Rolf, Sales Manager at the Zeppelin Office in Hanover. Vehicles and construction machines with hybrid technology typically have an additional electric drive. Caterpillar developed a hybrid on hydraulic basis with a pressure accumulator. Instead of the kinetic brake energy of the upper structure being wasted, in the newly developed machine this energy is fed into an accumulator and then used for swing acceleration (Fig. 2). This enables an up to 25 % lower fuel consumption.
Since the hybrid excavator has been in use, it has had to prove its strengths in a variety of different jobs the company has taken on. These include earthwork of all types, ship unloading, loading of trucks as well as deconstruction and the remediation of former industrial sites. But it has most clearly demonstrated its strengths in removing overburden, where it now reaches a daily rate of up to 3000 m³. The target is 300 000 m³ per year and crew. Excavation of the overburden is undertaken by LFT Lüdeke in work for other companies in the raw materials industry, gravel works and quarries. With the hybrid excavator, overburden from a water depth of two metres is cleanly separated from the raw gravel and excavated with a special backhoe. The backhoe cannot capitulate even when handling soil class six.