Jaw crusher on armorstone and aggregates production line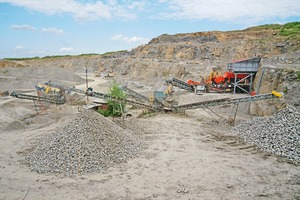 Quelle/Source: Sandvik Construction
1 Since the end of May the Sandvik UJ310 has been working in armorstone and aggregates production in the sandstone quarry Kamieniołom Barwałd
Quelle/Source: Sandvik Construction
Sandvik Construction has extended its offering into the European market with the introduction of a wheeled jaw crusher, the Sandvik UJ310. The first such UJ310 in Europe has been delivered to Polish sandstone producing company, Kamieniołom Barwałd, in May 2015, to work as a primary crusher on its armorstone and aggregates production line (Fig. 1). Founded in 1997, the company is based some 40 km south-west of Krakow. Its primary operations are quarrying sandstone, which is partially converted into natural building stone products, but is mainly processed into armorstones (63/130, 130/200, 130/350 mm) and road construction material. Annual production is in the region of 250 000 to 300 000 t, with demand for the quarry's products being very high.
Although wheel mounted, the UJ310 has proved able to still deliver a more flexible solution than semi-stationary plants, being easily relocated to where it is most needed. At the heart of the UJ310 is the single-toggle CJ411 jaw crusher with a large opening of 1045 x 840 mm and maximum feed size of 750 mm. Material is fed into the 15 m³ standard hopper and through the vibrating feeder, SW1253H, which has a 1.5 m grizzly section with adjustable gaps of 90/105/120 mm. Fines and intermediate fractions are removed, and an optional wire cloth screen beneath the grizzly (900 x 1160 mm) is available to separate the fines from the intermediate fraction.
The fines are then removed onto a side conveyor; the intermediate fraction is re-circulated through a by-pass chute on the 1000 mm main conveyor to be stockpiled together with the crushed product or fed onto the next production stage. This configuration guarantees the plant's high output capacity, which in quarrying operations can achieve up to 325 t/h at a CSS of 125 mm.
The total power of the electrical drive is 134 kW (crusher: 110 kW, feeder: 2 x 6.63 kW, main conveyor: 11 kW). All drive controls are housed in a central control panel unit and power is supplied through a mains or separate power set. The fully electrical drive ensures high energy efficiency with low emissions and easy operation of the plant. A frequency inverter allows the step less control of the feeder speed via remote control with emergency stop, which controls the feed rate and local control of the feeder speed.
All structural and chassis components of the 52.2 t three-axle unit have been optimized for static and dynamic characteristics using Finite Element Analysis (FEA). This ensures safe transport via a low-loader, but enables short setup times with quick positioning on six landing legs. Spacious and solid maintenance platforms allow easy access for carrying out service and safe monitoring of the plant. Safety guards and covers on all moving parts are supplied as standard, as well as dust suppression through water sprinklers which are fitted on the crusher feed and discharge conveyor chutes.
After the first month's production Tymoteusz Pilor, Product Manager at Sandvik's Polish distributor Grausch & Grausch, is convinced about the success of the project (Fig. 2): "After the usual fine adjustments, the operation is running trouble-free in combination with the existing processing stages. Our customer has already noticed the low energy requirements and cost savings. After just one month's operation the fully electrical UJ310 has saved our customer almost 10-15 000 € compared to a similar diesel driven unit."
Due to the success of the UJ310 at Kamieniołom Barwałd's quarry Pilor recognizes further market opportunities for the wheeled Sandvik UJ310. "In addition to smaller and medium-sized quarry companies we also expect great interest from stationary recyclers. Together with cost advantages, the highly productive UJ310 brings advantages for both sectors with regards to simplification of permits compared to stationary plants."