Intelligent irrigation
New technologies for dust-free transport roads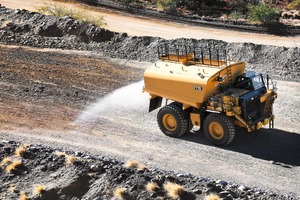 © Caterpillar/Zeppelin
1 With its intelligent water control, the new Cat 777G Water Solutions-SKW with 76 000-l tank offers water-saving and thus sustainable dust suppression
© Caterpillar/Zeppelin
© Caterpillar/Zeppelin
2 Optimum water volume at all times with finely adjustable spray distribution prevents over-watering and reduces harmful particles in the air
© Caterpillar/Zeppelin
I‌n many mining operations, dust on the haul roads can affect safety and productivity. Ensuring dust mitigation and preventing localised overwatering is not always easy. Building on the proven Cat 777G SKW platform, the new Cat 777G Water Solutions SKW offers the stationary industry an innovative vehicle for controlling road dust. By integrating the SKW, tank and intelligent control of refuelling and irrigation, the Cat 777G Water Solutions always operates with the optimal amount of water, thereby using water as a raw material in a sustainable way. The Cat Water Delivery System (WDS) combined with Cat's MineStar Edge fleet management system, designed specifically for the extraction industry, offers operations many options for flexible customisation.
The new Cat 777G Water Solutions-SKW comes standard with a 76 000 l water tank, complete with spray system, splash guard, fill chute and stone separator. In economy mode, the tanker's engine consumes up to 13 % less fuel than at full load. The additional water cannon also works at engine idle speed, e.g. when stationary, and reduces fuel consumption by up to 50 %.
Intelligent Watering System WDS
The exclusive Cat WDS delivers variable water flow based on travel speed to reduce the risk of accidents due to spray while conserving water. The finely adjustable pump automatically starts and stops when the tanker slows or comes to a stop, preventing over-watering and resulting poor traction at road crossings or meeting points. The system also features a soft start and automatically shuts off when the tank is empty to prevent damage from the pump running dry.
WDS components include a water cannon, oil cooler, variable displacement pump, hydraulic oil tank, electronic control boxes and a high-pressure pump. Automated water dispensing not only reduces health hazards from airborne particles, it also allows the operator to focus on driving to increase safety in the field. Remote tank control, complete with automatic shut-off to prevent overfilling, allows the driver to remain in the cab during refilling to avoid possible slips and falls when climbing or descending on the tank.
Scalable technology with Cat MineStar Edge
Integrated with the Cat  WS, cloud-based fleet management Cat MineStar Edge collects and communicates machine data to efficiently monitor the fleet and achieve production goals. The system is flexible to specific site requirements and can provide a wide range of data to improve fleet productivity, including real-time and historical reports, machine location and utilisation, fuel and water levels, distributed water volume, area covered and other operational metrics.
zeppelin.com
zeppelin-cat.de