Primary crushing plant and processing of riprap in the Sauerland region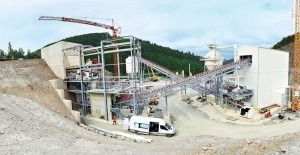 Quelle/Source: HAVER NIAGARA GmbH
1 Panoramaansicht der Gesamtanlage • Panorama view of the plant as a whole
Quelle/Source: HAVER NIAGARA GmbH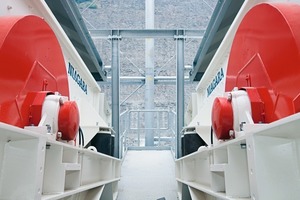 Quelle/Source: HAVER NIAGARA GmbH
2 Excentersiebmaschinen • Eccentric screening machines
Quelle/Source: HAVER NIAGARA GmbH
The quarry for greywacke "Kleinhammer" is situated among a wooded mountainous region in Sauerland, sixhundred meters in south-east direction to the town Werdohl-Kleinhammer. Since the change of ownership in January 2015, Holcim, a manufacturer of construction material, has operated the quarry. Ownership changes did not result in a change of personnel.
In close collaboration with the previous operator HAVER NIAGARA GmbH designed a new primary crushing plant with subsequent processing of riprap (Fig. 1). Besides the primary crushing plant and processing of riprap the scope of supply also included the complete conveying system, the intermediate silo and the dust silo as well as the planning of concrete works and the overall assembly.
The main challenge in this project were great demands of the customer on quality specifications, emission and environmental standards as well as the tight schedule for finalization. Furthermore, the installation should secure a safe and flexible production for the next decades. By means of the designed concept HAVER NIAGARA provided an innovative solution for the fulfilment of these requirements. An example of the flexible production is the processing plant for riprap. The weight classes 5-40 kg and 10-60 kg can be processed separately or simultaneously on request by means of two heavy duty screening machines (Fig. 2). Soundproofed building facades, energy saving electrical components and the dedusting unit are the main objective with regard to emission and environmental protection.
The period for the realization from the start of project until commissioning took 12 months. Due to the onset of winter at the beginning of 2013 concrete works had to be stopped for several weeks. Therefore, the planned start of production was endangered. The specialist in mineral processing technology from Münster took up that challenge and modified the assembly process, so that contrary to the initial plan the building for the processing of riprap was installed at first. The concrete works on the building for the primary crushing plant have been continued at the same time (Fig. 3). As a result of the measures taken, the scheduled start of production was at the beginning of September 2013. On the occasion of the opening celebration on 27 September the installation was formally inaugurated with a spectacular firework.