Record-setting attendance at Solids and Recycling-Technik Dortmund 2015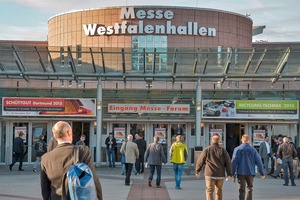 Quelle/Source: Easyfairs
1 The Westfalenhallen Dortmund as approved location for the double trade show Solids and Recycling-Technik
Quelle/Source: Easyfairs
On 4th & 5th November 2015 in Dortmund 6561 trade professionals – 37 % more than last year – attended the double trade show Solids and Recycling-Technik, setting a new visitor record (Fig. 1). The exhibition floor was equally busy on both show days. The visitors came in order to discuss specific projects, make new contacts and to do business with the 450 suppliers present (Fig. 2).
The exhibitors were delighted. "This trade show is simply a must for providers of solids technologies – it has become the leading event for the solids industry," says Stefan Meyer, Managing Director of REMA TIP TOP West GmbH. "The positive resonance among the user community confirms the organiser's claim that Solids Dortmund has established itself as a meeting place for the industry," continues Meyer. "We are so confident in this show that we signed up as a premium partner in 2017 before this show was even over." Besides REMA TIP TOP, 170 other companies also reserved stands for the next editions of Solids and Recycling-Technik Dortmund 2017 while still onsite. Thus, 18 months before the next show opens, some 60 % of the show floor in Halls 4, 5 and 6 is already booked.
"This show was a great success for us," says Michael Hengl, Managing Director Europe at Martin Engineering. "We had one intense technical discussion after the other at our stand, and our VIP lounge at the Business Bar was constantly full. We will certainly arrange for that again in 2017!" But not only the exhibitors were happy; the visitors also expressed their satisfaction. "I come here regularly but this year I was really impressed," says Uwe Schanzenbächer, Sales Engineer at Aventics GmbH. "This show has turned into something great." Besides the 362 German suppliers at Solids and Recycling-Technik Dortmund, 88 international companies from 17 different countries – 20 % of the total number of exhibitors – also saw crowds of visitors at their booths.
In 2015, the well-attended third edition of Recycling-Technik Dortmund took place with 200 exhibitors offering recycling solutions, and with a separate designated recycling hall. "Now that I think about it, our stand was a little too small to accommodate all the people who wanted to talk to us," says Klaus Heusslein, Director of Support – Germany for Recyclix, one of the first-time exhibitors at the show. "For the next edition, we will need more floor space; we're already planning to present our recycling solutions in the coming year at Solids Basel. And we are also considering participation in the shows at Antwerp, Rotterdam and St Petersburg as well."
"It is clear that opening up Hall 7 for Recycling-Technik was the right decision. Here, users of recycling technologies could find what they were looking for in a concentrated and goals-oriented way," says Daniel Eisele, Event Director for both shows.
Complementing the shows were 100 lectures held on five stages (Fig. 3). With their best-practice cases and technical seminars, the so-called InnovationCenters and Solution­Centers were very popular among the trade professionals. In addition, the guided show tours made it possible for visitors to get a quick, efficient overview of the broad spectrum on offer while simultaneously learning more details about relevant products and equipment.
In parallel with the exhibition and lectures, two expert conferences delved into the topics of the trade shows. The 6th URBAN MINING® Congress took place alongside Recycling-Technik, and in parallel with Solids was the 2nd German Fire and Explosion Protection Congress by IND EX®. Both conferences showed an interdisciplinary focus and received high ratings from participants. The conference organisers and Easyfairs therefore plan on continuing with the congresses in the spring of 2017.
The next Solids and Recycling-Technik Dortmund will be held on 10th & 11th May 2017.