Service
Tenova TAKRAF's concept of Industry 4.0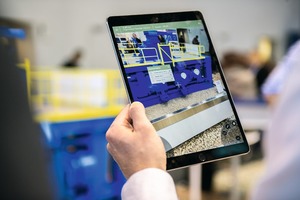 Quelle/Source: TAKRAF
1 Definierte Points of Interest werden an Hand eines Tablets ausgelesen • Defined Points of Interest are read out on the tablet
Quelle/Source: TAKRAF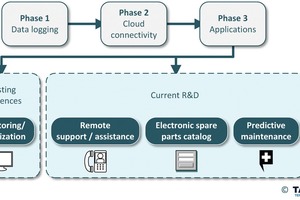 Quelle/Source: TAKRAF
2 Skizze der aktuellen Angebote und der wichtigsten Bereiche der F&E-Aktivitäten von TAKRAF im Bereich Industrie 4.0 • Sketch outlining our current offerings and major areas of TAKRAF's R&D activities in the field of Industry 4.0
Quelle/Source: TAKRAF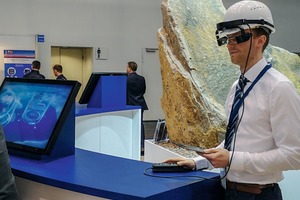 Quelle/Source: TAKRAF
3 TAKRAFs Remote-Support-Anwendung – "Smart Glasses". Experten in einer Büroumgebung können sich mit dem Inbetriebnahme- oder Wartungspersonal vor Ort verbinden, um spezifische Probleme zu lösen. Dieses System wurde auf der bauma 2019 vorgestellt • TAKRAFs remote support application – "smart glasses". By using this tool, experts in an office environment can connect to commissioning or maintenance staff on site to solve specific problems. This system was demonstrated at the bauma 2019
Quelle/Source: TAKRAF
I‌n order to meet the rapidly growing demands on digitization in all areas and to develop Industry 4.0 from a marketing concept to a practical business use concept, TAKRAF has pushed ahead with the introduction of new technologies in the area of the industrial Internet of Things (IIoT).
Examples of the IIoT service offered by TAKRAF
TAKRAF is a highly specialized supplier of machines and services in the fields of mining, materials handling and minerals processing. As such, the company a large base of installed machines that daily generate valuable data from which it is possible to gain information regarding optimization of design, operation and maintenance or even troubleshooting.
Architecture of TAKRAF data acquisition and cloud-connection tools
Based upon current IIoT technologies available today, TAKRAF equipped a select sample of machines with remote data logging systems as a part of a variety of R&D initiatives. One of TAKRAF's first successfully integrated systems is running in one of the company's high-capacity spreader and tripper car for a large overburden-handling project in South East Asia. This system was designed and is based upon hardware and software components supplied by iba AG, a specialist for data logging and analysis. A machine connector reads defined data from the Profibus DP of the machine control system without jeopardizing its security and/or integrity and writes those to the iba PDA server. On this server, the data is locally stored and analyzed, e.g. for automatically generated reports. Recorded data is then sent to the head office simultaneously or in batches.
Remote support with the help of smart glasses
A few further outcomes from TAKRAF's R&D activities include remote support solutions employing "smart glasses". Such tools are relatively easy to implement and already quite readily available. With these glasses, the company is able to connect experts in an office with commissioning engineers or clients' maintenance staff on site in order to solve specific problems quickly and effectively, avoiding long trips and associated travel costs.
Augmented Operator Advisor
Another "smart tool" TAKRAF presented at bauma 2019 is based on Schneider Electric's "Augmented Operator Advisor". This software tool, which runs on a tablet, is able to determine its positioning in the field based upon image recognition of the various parts around the user. Based upon this recognition, various "points of interest" can be defined together with context sensitive information such as manuals and maintenance procedures live data can also be made available to the user.
It should be remembered that digitalization and IIoT developments are more a "journey" which has just started, rather than being a completely defined approach to a well-defined destination. Many applications on the market can be considered "pilot applications", developed in order to explore options and demonstrate their usefulness towards finally obtaining acceptance by clients and/or users.