New patented cleaning system
Up to 40 % cost savings in compressed air generation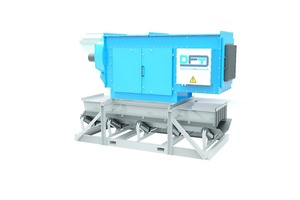 © Deichmann Filtertechnik
1 Thanks to the newly developed DELA system, the BAF belt filter works autonomously and does not require an additional compressed air connection
© Deichmann Filtertechnik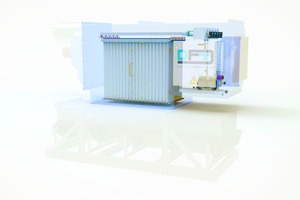 © Deichmann Filtertechnik
2 The patented DELA system from Deichmann Filtertechnik stands for long service life, excellent handling and very little time needed to replace the magazine with the tubular filter cartridges
© Deichmann Filtertechnik
The smaller the object at stake, the deeper the worry lines usually are of those responsible for the environment. Especially when it comes to dust particles only a few microns in size, the matter becomes complex, regardless of what goal a company is pursuing.
Over the course of almost 75 years, Deichmann Filtertechnik has consistently grown to become one of the leaders in industrial dust collection technology for a wide variety of applications. From project planning and design to installation and complex turnkey solutions, the company offers innovative and economical engineering services from a single source. Whether above or below ground, outdoors or indoors, whether in the processing or treatment of aggregates, wood, plastics, in waste incineration, in thermal processes or wherever dust pollution occurs: DFT has the right solution – for port handling, just as in potash mines or other applications.
With its most recent development, Deichmann has taken another major step forward. "We are familiar with the problem of high costs of producing compressed air in large dedusting systems. With the innovative Deichmann KJF compact filter system, we want to reduce costs for our customers and at the same time optimise efficiency and filtration results," says Jens Rettig. As Sales Manager he is always close to the customer and, thanks to his technical background, has played a significant role in numerous product developments.
With the new BAF top-mounted belt transfer filter, designed as a compact jet filter, Deichmann offers independence from a central compressed air supply, which is considered one of the significant cost drivers in dedusting processes. Short, high pressure pulses of air are used to blow the filter elements free of dust cake during normal operation – this process is called "jet pulse cleaning". After the compressed air blast, the filtered dust cake either falls back onto the belt or into a hopper within the system, from where it is disposed of or further processed.
In centrally operated compressor stations, high pressures are generated which then have to be reduced again for the filter cleaning system. Further losses arise from long compressed air line systems. The on-board air compressor of a BAF belt filter, on the other hand, generates air on demand and is thus very economical. The compact jet filter type BAF with the innovative DELA system combines compressed air generation and an advanced cleaning system. DELA stands for Decentralised, Energy efficient, Low pressure and ATEX compliant. It is fully autonomous and requires only an electrical power supply and no external compressed air connection. DELA is the consistent development of the compressed air cleaning system in dedusting systems. By optimising the valve technology and adapting the flow technology, enormous savings in compressed air consumption are achieved. Due to this optimisation, a cleaning pressure of only 3 – 4 bar is required.
The compact filter system includes an element consisting of a tubes of material arranged in rows between flanged supports. These hollow cylinders have excellent backwashing properties and low flow resistance. This means that much higher filter area loads can be achieved than with a pleated panel filter, for example.This results in significantly longer service lives, an almost unlimited field of application and are extremely user-friendy. The new filter system with DELA cleaning requires only a power connection and is also completely ATEX-compliant due to its design.
The BAF belt filter was designed for direct use on conveyor belts and primarily for the aggregates industry. However,the DELA cleaning system can also be integrated in free-standing filter systems type KJF. This compact filter system is used in applications such as for dedusting industrial workplaces, metal spraying systems and air pollution control in cleaning and grinding booths. As a product separator, the system has already proven itself in the chemical and pharmaceutical industries, the food industry, pigment production, metallurgical processes and many similar areas.
Thanks to the outstanding handling, filter change times are reduced by almost two thirds compared to conventional systems. Cleaning is fully automatic and the achievable residual dust content is less than 1 mg/Nm3. The Deichmann Compact Jet Filter KJF is suitable for processes with air volume flows from 2000 to 80 000 m3/h. On request, the filter housing can be supplied with an exhaust hood or integrated fan and silencer, completely ready for installation.