Smart technology
WAM's new Filcontrol "Connect" filter control system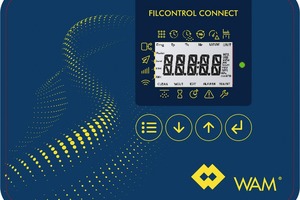 Quelle/Source: WAM
1 Neue Filtersteuerung Filcontrol "Connect" • New Filcontrol "Connect" filter control system
Quelle/Source: WAM
W‌ith the introduction of its new Filcontrol "Connect" filter control system, WAM has now added smart technology for the operation of filter systems to its portfolio. The time-controlled "Time" has also been revised thoroughly. After WAM has successively updated its successful filter series, like SILOTOP or WAMFLO, for bulk solids processing and added nanofibre filter elements over the last two years, the introduction of the new Filcontrol in the "Time" and "Connect" versions means the completion of the extensive modernization of the successful filter series.
As filter systems only function properly when cleaning of the steadily clogging filter elements is ensured, the filter control system has an important job. It controls the pulse duration and interval lengths between cleaning and must therefore be adjustable in accordance with the material properties of the bulk solids being conveyed.
For many applications, "Time" is the ideal choice on account of its easy handling and the excellent price-performance ratio. As standard, it can activate up to three instead of two magnetic valves and, therefore, in its basic version it is usable for many more filter systems. Moreover, the board enables an extension for the connection of up to 15 (formerly 12) solenoid valves. Ten different programs can be selected, which can be used to meet different requirements. The status of the filter control system can now be read outside on the housing without it being necessary for the top cover to be opened.
To adjust the proprietary filter systems to meet the requirements of the digital world, WAM has developed "Connect". The filter control system enables wireless data exchange between the filter control system and user by means of the GPRS or Wi-Fi module. With the communication with the user, which is monodirectional by SMS in the GPRS network or bidirectional in the Wi-Fi network, the user is alerted immediately if a problem arises with the filter system. When the preset alarm pressure is reached, the integrated differential pressure meter (MDPE) sends a problem message straight to the user so that he or she can take countermeasures and avert any damage to the system. Setting is done on a control panel with four membrane keys and an LCD display on the outside of the housing. Here 51 programs can be configured with variable parameters.
Like "Time", "Connect" offers as standard the option of activating up to three solenoid valves and the board equipped for use of up to 15 solenoid valves. To eliminate errors in the connection of the dirty and clean air ducts, the system automatically identifies the type of connection, as a result of which installation and commissioning are simplified.
Both filter control systems are now available for use with new dust collectors and for retrofitting installed models.