SPECIAL bauma 2022
PFREUNDT GmbH
At bauma in Munich everything revolves around the topics of digitalisation, automation, sustainability and emissions reduction in the construction machinery industry. PFREUNDT, which has always been known for innovations in the field of mobile weighing technology, is presenting its latest technologies at the trade fair.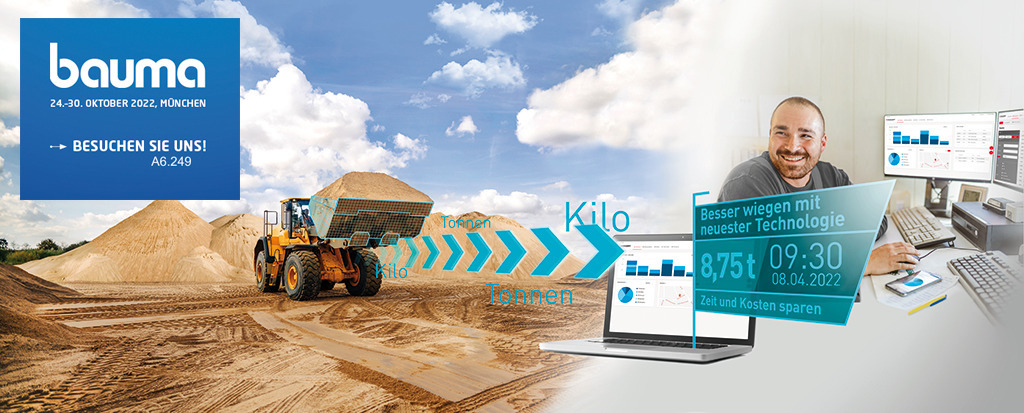 PFREUNDT presents mobile weighing technology
© Pfreundt
PFREUNDT presents mobile weighing technology
© Pfreundt
"Our exhibition booth at bauma is themed 'more products, more service, more digital'. In addition to a broad cross-section of our extensive product portfolio of mobile weighing solutions, we will be presenting our brand new hydraulic excavator scale there. We will also be presenting the PFREUNDT Load & Go Web App, a new product feature of our web portal, and our Service 2.0, the digital expansion of our existing service network," says Stephen Lüdiger, Sales Manager at PFREUNDT.
The highlights at the PFREUNDT exhibition stand
The hydraulic WK60 excavator scale enables material to be weighed directly in the work process and thus enables trucks to be loaded quickly and accurately. The mobile weighing system convinces with precise measurement results even under the toughest conditions on uneven terrain and with intuitive operation via the 7 inch touch display. The excavator scale can be retrofitted to all manufacturer types at any time. Digital administration, analysis and further processing of the recorded weighing data is also easily possible through a connection to the PFREUNDT Web Portal.
The new PFREUNDT Load & Go web portal feature enables completely paperless order processing. This makes working in construction traffic efficient and increases plant safety. This is because lorry drivers can track their loading status live via their smartphone and confirm it with a digital signature, eliminating the need to get out of the car. The delivery note is also signed digitally when the material is delivered. The recorded weight of the load and the signatures are transferred to the PFREUNDT web portal and are available there in real time for further processing.
With its worldwide service network, which even covers the whole of Germany, PFREUNDT ensures smooth and uninterrupted operation of its weighing systems at all times. For an even faster response time to customer enquiries, the existing service is being expanded to include a digital service offering. PFREUNDT Service 2.0 includes remote access to PFREUNDT scales and a digital update service.
Booth A6.249