Record result for Sandvik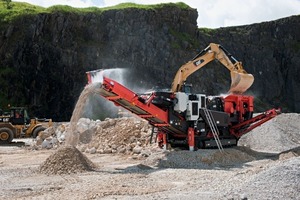 2 Der neue raupenmobile Prallbrecher QI240: Vor- und ­Nachbrecher in einem # The new tracked impact crusher QI240: Primary and Secondary crusher all in one
Nearly 20 000 visitors attended Hillhead in 2012. Sandvik Construction enjoyed their best Hillhead ever with nearly 3000 visitors coming to the stand over the three days the show was held (Fig. 1). The visitors came from all corners of the globe in order to see a broad selection of Sandvik's product lines. On the whole, Sandvik presented the following products – including the latest upgrades from the tracked jaw crusher range as well as new product launches – to a huge number of visitors:
• UJ440i – a heavy and robust unit, more fuel efficient and user-friendly, suitable for aggregate production, surface mining, quarried rock and recycling of construction materials
• QJ341 – the new user-friendly jaw crusher stands for more productivity and lower emissions. The QJ341 is suitable for quarrying applications such as granite and limestone, but equally effective on concrete, re-bar, bricks or asphalt in a demolition/recycling environment
• QJ241 – a compact and powerful tracked jaw crusher, now available with a raise and lower facility to the main conveyor, suitable for smaller quarry or demolition site, where operating space is limited
• QH331 – launch of a environmentally friendly, yet highly productive, mobile cone crusher, suitable for aggregate production, surface mining and quarried rock
• DI550 – launch of Sandvik's new generation down-the-hole drill rigs, offering unique productivity and user comfort in 5" hammer drilling
• WR media – patent-pending WR modular screening media for use on screens with longitudinal profiles. This provides aggregate producers with enhanced high production capacity, together with the highest levels of screening ­accuracy
• CI511 and CI512 – the all new patented and highly modularized Sandvik CI511/512 crusher combines the ability to configure one base crusher into either a Primary or a Secondary configuration. This makes it adaptable to your ever-changing requirements
• QI240 – purpose designed tracked impact crusher to process materials on site, primary and secondary crusher all in one, for the recycling of construction materials and the production of high quality aggregates (Fig. 2)
During live machinery demonstrations visitors could follow the demonstration of the tracked jaw crusher QJ341 feeding a tracked cone crusher QH440, which then fed the crushed material for sizing to a triple deck tracked doublescreen QA450 (Fig. 3).
Sandvik also presented a selection of breakers under the Rammer brand as well as the QE440, tracked scalper/screener, the QA331, tracked 3 way split screener and the QE140 – a highly productive screener/scalper. Hugh Glandfield, Vice President UK & Ireland, Sandvik Construction, said after the show: "Hillhead has always been the perfect opportunity for us to show case our product lines and meet our customers, but this year we were truly staggered by vast number of potential new customers, and general visitors, who came to the Sandvik stand."