Aerzener Maschinenfabrik GmbH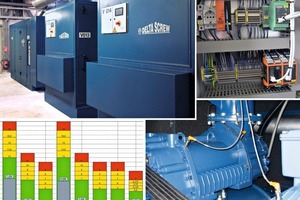 1 Installierte Schwingungssensoren an einer Delta Hybrid-Stufe (unten rechts), Modem mit Auswerteeinheit (rechts oben) und Auswertung der Betriebsdaten (links unten) • Installed vibration sensors on a Delta Hybrid stage (bottom right), modem with evaluation unit (top right) and evaluation of the operating data (bottom left)
At POWTECH 2013, Aerzener Maschinenfabrik GmbH is presenting real-time plant monitoring. If the vibrations of a twin-shaft machine exceed the defined limits, this may be an early indicator of a pending technical problem, possibly requiring repair or overhaul. With this monitoring system, maintenance work can be planned with foresight, so that surprising failure, severe damage and downtime costs can be largely prevented. For this reason, following extensive field testing, Aerzener Maschinenfabrik now offers permanent machine monitoring "Delta Real Time Monitoring" for its the entire range of machines it has previously supplied and the current portfolio. This real-time system can be immediately integrated in every new Aerzen machine, but also retrofitted to already installed units (Fig.). With this system, the manufacturer is complying with the request especially of operators of plants in high-end process flows such as process gas systems. For this new development, Aerzen has worked with the VDI to develop new standards because the previously existing provisions could no longer be applied.
"Delta Real Time Monitoring" uses sensors to monitor the vibrations, pressure and temperature of the machine and can also integrate the Aerzen AERtronic control. All data from up to eight diagnosis units are collected in real-time in a dedicated control box and then immediately transmitted by means of Internet, Ethernet or GSM modem to a special server in the Aerzener Maschinenfabrik, where they are stored for retrieval at any time. If required, the operator is sent a visualization to his main display. The Aerzen service department checks the condition of the machine at least once a week and, depending on the contract, compiles a report on the condition of the machine monthly, quarterly, six monthly or annually as well as making suggestions for continued reliable and trouble-free operation.
In addition Aerzener Maschinenfabrik is also presenting its new Delta Hybrid rotary lobe compressors. It has now added a new size to this line of products. With a total of 14 sizes, the Delta Hybrid units now cover intake volume flows of 110 m³/h up to 5800 m³/h and overpressures up to 1500 mbar. The new sizes D 98 S and D 98 H are used in the upper volume flow range of 1470 up to 5900 m³/h with driving powers up to 250 kW. Also in preparation is the size D 152 S with volume flows up to 9100 m³/h and max. driving powers of 400 kW.
Hall 4; Stand 115