BMD
BMD Crushing Plant RA 700/6 creates new business idea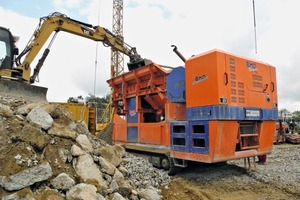 1 Kontinuierliches Beschicken der Brecheranlage RA 700/6 ist wichtig für eine hohe Stundenleistung an Recyclingmaterial • Continuous feeding of the crusher plant RA 700/6 is important for a high hourly output of recycling material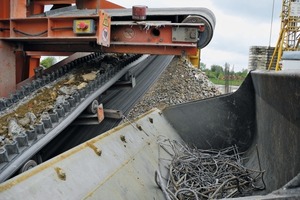 2 Der eingebaute Magnetabscheider der BMD RA 700/6 "wirft" Armierungseisen direkt in die bereitgestellte Radladerschaufel • The magnetic separator installed in the BMD RA 700/6 "throws" armoring iron directly into the provided wheel loader bucket
Companies that want to produce valuable recycling material even from rubble of small to medium-sized demolitions and thus save disposal costs, will need the suitable crushing plant (Fig. 1).
Dieter Fella from Burgau, near Günzburg, runs, among ­others, a real estate company in Saxony. Here, objects, residential and commercial facilities are bought, prepared and re-let on a market-driven scale, as e.g. the former factory premises of a refrigerator production plant in Niederschmiedeberg, a district of Marienberg in Saxony. This project required the blasting of the chimney, which towered above the adjacent boiler house. The amount of 5000 t of bricks and clinker released had to be sent for recycling. Since the offers for the disposal reached astronomical heights, they decided to crush the rubble on site on their own responsibility.
"We already owned a 3-axle truck with hook lift. Therefore we relatively quickly decided to rent the A 700/6, since it is mobile and appeared to be ideal with regard to dimensions, handling and output. Moreover, it is very flexible due to the possible adjustment of different grain sizes. The larger part of the uncontaminated recycling material recovered could be used for the construction of a ramp on site", explains Fella.
These positive results led to the establishment of the Fella machine rental company in Burgau, which for four years has been successfully operating as a crushing contractor within a radius of 200 km around Augsburg, Günzburg and Ulm. After the positive start of the business and some rentals of crushing plants from BMD Heidelberg they relatively quickly bought their own plant. As the business model of contract crushing of small and medium amounts of rubble turned out to be a market gap, the businessman meanwhile operates 2 BMD plants. One hook-lift mounted and one track-mounted mobile plant are supplemented by trucks, excavators, wheel loaders and containers which allow to provide perfect services at each point of demolition. The family company offers the service of contract crushing at a lower hourly rate than its complete service. In addition to the possibility of processing small amounts of rubble at a reasonable price, the company also offers the proper on-demand disposal of any other site waste (Fig. 2). Thus finally, there is no disposal work left for the consigner.
The crusher plants from the Heidelberg-based manufacturer are equipped with a hook-lift system. As a result, transport costs can be kept at a very low level, since excavators and wheel loaders can be transported to the site while scrap or residual waste can be removed. Low wear costs as well as diesel consumption of only 6-8 l/h help ensure efficiency. In this context, the discharge chute arranged crosswise under the crusher is a significant advantage (Fig. 3), which enables optimum accessibility and thus effectively prevents downtimes as well as expensive damages of conveyor belts. In addition, the basic version of the plant is already equipped with magnetic separators and dust suppression devices. And not to forget, the moderate noise development in the rubble crushing process. Only in case of hard rocks, higher values can be reached. Dieter Fella mentions an additional plus, namely "that the team of suppliers is virtually always reachable – even at weekends. Thus a standstill of the plant does hardly ever occur."