Solar-powered crushing plant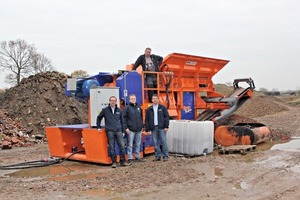 Oliver Strunk als "Kapitän" der Brecheranlage RA 700/6 E obenauf, dazu das Lieferteam Clemens Hubert (l.) und Uwe Pfeifer (r.) von BMD sowie Eric S. Frensel (m.) von OF beim Vor-Ort-Termin in Glüsing • Oliver Strunk as "captain" of the crushing plant RA 700/6 E at the top, the supplier team with Clemens Hubert (left) and Uwe Pfeifer (right) from BMD as well as Eric. S. Frensel (centre) from OF during a local date in Glüsing
With his gardening and landscaping business including a recycling plant at Glüsing near Heide in Schleswig-Holstein, Oliver Strunk seemingly has had the right touch for entrepreneurial decisions in the last few years. In the immediate vicinity of the North Sea and the Baltic Sea, he witnessed at first hand the boom of wind power stations and the rush for solar power. Within the scope of the erection of a large recycling plant including a gravel pit, he has been setting up roof areas for photovoltaic systems since 2009. Today, they have a power generation capacity of approx. 326 kW. Consequently, his mechanical equipment and his crushing plant RA 700/6 E from BMD have logically been designed for electric drives (Fig.).
During a visit to the far north it could be seen how the crushing plant, including the gravel pit, with an operating area of 65 000 m² has been integrated and how efficiently it works. Equipped with a jaw crusher, the plant daily produces mainly a grain mix of 0-32 mm from brick, reinforced concrete and asphalt waste. When making the decision in favour of the equipment from the Heidelberg-based manufacturer, it was particularly important to get an efficient electric drive for all units. Even with a cohesive and sticky material, the very strong crusher drive with an electric motor of 55 kW, together with a feed bin completely made of wear-resistant Hardox steel, make it possible to crush the feed perfectly. Strunk is heavily involved in the business with disused wind power stations. Their old, strongly reinforced concrete foundations have to be recycled. In the past, various leased conveyor belts were damaged during this operation, which was expensive. This danger no longer exists for Strunk due to the standard discharge chute of the BMD plant. When procuring the crushing plant, his focus was on the handling dimensions for the transportation with three-axle roll-off tippers, on easy operation and functional versatility.
Thus, it was immediately noticed that the RA 700/6 E has already been designed with connections for additional pile belts. Furthermore, a belt scale, which can be installed within a short time, makes it possible to acquire and further calculate quantities exactly. For the operator it is a special highlight that he is able to control all drives for crushers, belts and the chute by means of a radio remote control. In addition, the chute can be adjusted steplessly by radio during operation.
"It is really a good thing to be able to control this crushing plant from a palm-sized portable operating console. Therefore, the sequence of operations can be excellently coordinated", said a satisfied Oliver Strunk. As a long-term customer of Oppermann & Fuss (OF), the dealer for mineral processing, well-known nationwide, the owner was especially interested in the following: "that all detailed issues were solved before the equipment was procured, that the specific wishes of the customer were integrated without any problems, that the offer was really transparent and complete and that there were no subsequent additional prices as a surprise."
Supported by Eric S. Frensel, District Sales Manager of OF, Quickborn, the manufacturer of BMD made it possible to supply the plant exactly at the scheduled delivery date early in November. "It is part of the corporate policy of BMD not only to manufacture well designed and functional crushing plants, but also to abide by agreements, such as an exact date of delivery", the successful commissioning was commented unanimously by Clements Hubert und Uwe Pfeifer, who came from Heidelberg. The managing director and owner Hubert and his project manager for mineral processing, Pfeifer, showed that the interaction between the equipment including electric drive and solar power may have good prospects also for other interested parties. Using their own solar power, more or less leads to a cost-neutral drive of the equipment. In addition, the excess energy can be sold at 12 cents/kWh to the power groups. Thus, the existence of the Glüsing-based recycling plant is additionally protected for a period of 20 years. Even if there is no power supply available for outdoor use, the required energy is supplied by a diesel-electric generating set. Oliver Strunk is convinced that he has invested in the right equipment with the BMD crushing plant RA 700/6 E in his catchment area in the north up to Berlin taking into account his special "solar power situation".