Castolin GmbH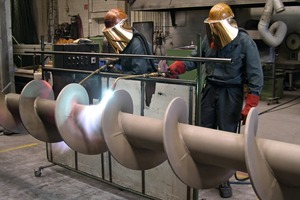 Je nach Verschleißart und Transportmedium schützt Castolin die Anlagenkom-ponenten mit individuellen Verschleißschutzlegierungen. Hier: Eutalloy RW Beschichtung mit anschließendem Einsintern • Depending on the type of wear and the handling medium, Castolin protects the plant components by means of individual wear protection alloys. In this case: coating with Eutalloy RW and following vitrification

Castolin, one of the leading manufacturers of solutions for wear protection, repair and maintenance, will present its product and service portfolio for all industries at the Powtech 2013 in Nuremberg, such as the "CastoLab-Services" as well as the special wear protection products "CastoTubes" and "CastoDur Diamond Plates" (CDP).
CastoLab is the comprehensive Castolin service offer comprising all functions of the welding, spraying and soldering processes. Emergency repairs, maintenance work and regeneration as well as wear-resistant surface treatment of components are carried out by Castolin's specialists either directly at the customer's site or in one of the fully equipped CastoLab facilities (Fig.). The CastoLab services offer tailored solutions across all industries from plant construction, steel structures and quarries and the cement industry.
The highlights of the Castolin product range for mechanical process engineering include the wear protection plates CastoDur Diamond Plates and the erosion-resistant tube lengths and elbows CastoTubes. These wear protection components, already partly coated by means of the latest nano technology, ensure a maximum of abrasion and erosion protection and help to achieve prolonged maintenance intervals. In addition to the wear protection plates and CastoTubes, Castolin also offers welding filler metal based on nano technology with the brand name "NanoAlloy".
At the fair visitors to the stand will have the opportunity to win a portable welding inverter during a game of crazy golf.
Hall 1; Stand 613