ContiTech AG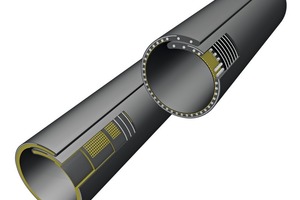 Photo: ContiTech
Mit einem Außendurchmesser zwischen 750 und 900 mm verdoppeln die neuen Megapipes die Förderströme im Vergleich zu konventionellen Rollgurten. Sie sind als Textilgurt oder Stahlseilgurt erhältlich # With an external diameter of 750 mm to 900 mm, the new MegaPipes double the flow rates compared to conventional closed-trough belts. They are available as textile belts or steel cord belts.
Photo: ContiTech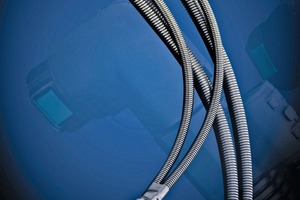 Photo: ContiTech
Neben den millionenfach bewährten SCR-Leitungen bietet ContiTech auch eine weiterentwickelte zweite Leitungsgeneration mit beheizten Quick-Connectoren an # Alongside its SCR lines – tried and tested a million times over – ContiTech also offers an advanced second generation version with heated quick connectors.
Photo: ContiTech
Environmentally friendly, energy- and cost-efficient solutions for the mining sector as well as for construction machinery and plant construction are the focus of ContiTech's appearance at the bauma 2013 trade show. In addition to conveyor belts and sustainable conveyor belt solutions, air spring systems, hose lines, and vibration tech­nology for industrial vehicles and plants can be seen.
First Choice for Conveyor Belt Technology
In keeping with the motto "ContiTech Conveyor Belts. First Choice", the ContiTech Conveyor Belt Group is presenting innovative and environmentally friendly conveyor belt solutions. With an external diameter of up to 900 mm, the new MegaPipes double the capacities compared to conventional closed-trough belts and even enable the transport of crushed ore downstream of the primary crusher or of bulky goods in the industrial sector applications. Their special design allows the angle of inclination of the closed-trough belt systems to be increased by up to 45 °, depending on the bulk material properties. Another trade fair highlight comes in the form of the conveyor belts specially developed to transport hot goods, even at extremely high material temperatures. Through the use of an innovative insulation layer in the belt construction, heat transmission is lowered by up to 40 °C, while the total weight of the conveyor belts is significantly reduced. The business unit is also presenting the extremely low-stretch EPP textile belts CON-MONTEX® and ­CON-BITEX®, as well as the TransCord conveyor belts, which offer greater flexibility compared to conventional steel cord conveyor belts with the same conveyor strength thanks to their special steel cord construction. In the area of steep and vertical conveyor belts, the Conveyor Belt Group is presenting the successful FLEXOWELL® product line and POCKETLIFT® as the only continuous conveyor system for stroke heights of up to 700 m and capacities of up to 5000 t/h. Both systems are among the groundbreaking innovations in this market segment. The company is also presenting Conti Secur® PREMIUM, an innovation in adhesive technology. In line with the motto "One step – one solution", the new adhesive has just one component instead of two, which means that it can be used immediately and for long periods.
New Segment Bundles Skills
At bauma, ContiTech Fluid Technology is introducing the powerful new Commercial & Industrial Vehicles (CIV) segment. It consolidates the business unit's expertise for all media flows in the fields of commercial vehicles and industrial applications. At bauma, CIV is presenting further developments in its SCR hose line systems with heatable quick connectors. Highly flexible hydraulic hoses made of rubber are indispensable components for hydraulically powered excavators, loaders, cranes, and dumper trucks. ContiTech also provides hydraulic solutions made of plastic. Preformed polyamide oil and fuel lines are characterized by their flexibility and media resistance. ContiTech Fluid Technology has developed ultra heavy-duty fuel lines specifically for new high-performance engines. They can withstand pressures of up to 35 bar and operating temperatures of up to 130 °C.
Air Actuators and Air Springs
80 mm to 950 mm in Diameter
At bauma, ContiTech Air Spring Systems is mainly exhibiting one-, two- or three-convolution bellows with diameters of 80 mm to 950 mm. They fulfill the requirements for ATEX certification. These products can be used in potentially explosive areas (equipment group II) as category 2 and 3 equipment, in T1 to T4 temperature ranges and in atmospheres containing gas or dust. For over 50 years, ContiTech air springs and air actuators have been used for a wide range of purposes, such as suspension of stationary machines. Especially when used under harsh operating conditions, Conti-Tech air springs and air actuators impress with their unique product characteristics and long service life.
Elastomer Bearings for Industrial Vehicles and Plants
At bauma 2013, ContiTech Vibration Control, the specialist for vibration- and noise reduction, is presenting ring elements with external diameters of 65 mm to 256 mm. These elements can be used in the most diverse applications and for loads of up to 82 000 N. Bushings compensate for rotational movements in drivers' cabs and ensure a much more comfortable ride for passengers. The SCHWINGMETALL® flange components, which are particularly suited to the suspension of engines, assemblies and drivers' cabs, will also be displayed at the stand. Comprising two elastomer bodies and a steel tube, the mounting element is not only cost-effective but also ensures good acoustic decoupling for a load range from 20 kg to 500 kg.
Hall B2; Stand 301/402