Profitable
Cost savings in ore production by switching to spherical roller bearings from NSK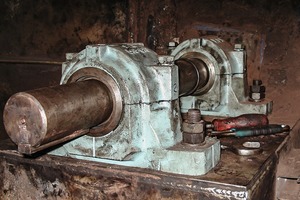 Quelle/Source: NSK Europe
1 An der Antriebswelle des Umluftventilators kam es zu häufigen Ausfällen der Wälzlagereinheit • On the driving shaft of the air circulating fan, there were frequent failures of the rolling bearing unit
Quelle/Source: NSK Europe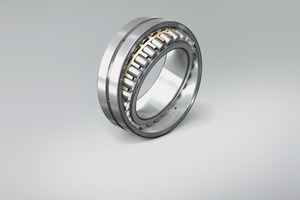 Quelle/Source: NSK Europe
2 NSKHPS-Pendelrollenlager wurden für höhere Tragzahlen und den Betrieb bei erhöhten Umgebungstemperaturen entwickelt • NSKHPS bearings are specifically designed to carry greater loads and operate at higher temperatures
Quelle/Source: NSK Europe
I‌n ore processing systems often operate under unfavorable conditions and with correspondingly reduced service life. High temperatures, high loads and contaminants can also affect the operation of drive components and systems. This experience made a company with the rolling bearings on the shaft of a circulating fan, promoting coal dust into the plant. After replacing the rolling bearings with NSKHPS spherical roller bearings in SNN housings, no more failures occurred.
When an ore preparation plant began experiencing repeated bearing failures on an air recirculation fan, it turned to NSK for advice. As a makeshift countermeasure, the facility was applying compressed air cooling in an attempt to reduce elevated bearing running temperatures, so the requirement for an urgent long-term solution was clear to see. NSK's expert team of engineers carried out an application review as part of its AIP Added Value Programme. This task included a temperature survey of the fan and bearings, which revealed that the bearings had been fitted incorrectly. In addition, excessive lubrication was evident, as was an inadequate sealing arrangement.
To counter these issues, NSK recommended switching to its high-performance NSKHPS Spherical Roller Bearings within NSK SNN Plummer Blocks and NSK Labyrinth seals. This move, along with recommendations for correct fitting, optimum lubrication intervals and quantity, would serve to overcome the plant's previous issues.
NSKHPS bearings are specifically designed to carry greater loads and operate at higher temperatures. They are made from high-purity bearing steel (Z-steel) and are temperature-resistant up to 200 °C. Their characteristics include – compared to conventional spherical roller bearings – higher load ratings, up to 20 % higher limit speed and up to 100 % longer service life. In addition, the high load rating allows in many cases a smaller design. These properties are achieved i.a. due to the material developed by NSK, an optimal design of the raceway and a special surface treatment.
To test the theory, a year-long trial was commenced, with NSK overseeing the installation and implementation of the recommendations. The results of the trial saw no bearing failures at any point in the 12-month period. The customer was soon able to testify to these benefits, enjoying increased productivity, reduced maintenance and the removal of compressed air, all of which have resulted in a significant cost saving. Factoring in time and labour costs due to bearings failures, as well as the cost of compressed air, means the plant is now saving more than € 390 000 per annum.