Crushed sand washing machine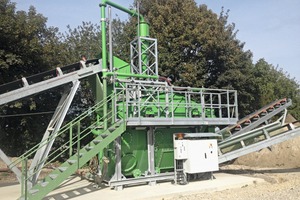 Source/Quelle: Glück
Seit März 2014 wäscht die CAB Compact-Anlage den Sand bei der Bernhard Glück Kies-Sand-Hartsteinsplitt GmbH am Standort Gräfelfing # The CAB compact system has been washing the sand in the Bernhard Glück Kies-Sand-Hartsteinsplitt GmbH in Gräfelfing since March 2014
Source/Quelle: Glück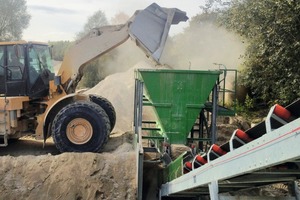 Source/Quelle: Glück
Die Beschickung erfolgt per Radlader über einen Aufgabetrichter mit Mengendosierer und ein Förderband # Feeding occurs by means of a wheel loader via feeding hopper with metering assembly and conveyor belt
Source/Quelle: Glück
The CAB Group is an internationally operating family company with its headquarters in the Austrian town of Wernstein, district of Schärding/Austria. It is specialized in the development and manufacturing of custom-made machines and systems for processing, separation, classification and dewatering of mineral sand and gravel. Since mid-March 2014, a CAB compact system is in operation on the premises of the "Bernhard Glück Kies Sand-Hartsteinsplitt GmbH" in Gräfel-fing near Munich.
In October 2013, the "Bernhard Glück Kies-Sand-Hartsteinsplitt GmbH" from Gräfelfing placed an order with CAB International GmbH, a subsidiary of the CAB Aufbereitungs- & Verschleißtechnik GmbH to deliver a CAB compact system for the wet-mechanical processing of crushed sand to form a new business unit of the gravel plant in Gräfelfing. The independent system is designed to enable a feed rate of 50 t/h and is able to wash dry feed material with a variable grain size range from 0 to 4 mm (0/8 and 0/16 and 0/32 respectively, can be processed as well) and classify into two value fractions. Apart from crushed stones or coarse sand, it also allows the production of high-quality sand for concrete, screed and asphalt application. At the same time, the proportion of slurry with particles < 0.063 mm of about 20 % in the feed material were reduced to < 2 % in the output material.
Running in operation since mid-March 2014 the plant has been loaded with dry feed material of most diverse compositions every day. Robert Plesa, the foreman, visibly proudly calls the plant "his washing machine", which will process the amount of 100 000 t per year. Now, after 1 year of operation, spare part costs have not yet arisen. After a run-time of about 5 years, the costs will amount to approx. 0.02 – 0.03 € per ton of feed material.
The company runs a CAB compact system of the CABrex type, consisting of the following features: a pre-wash unit, a compact steel structure with a split underflow collection tank, a dewatering screening machine DS15.36, a centrifugal pump package type Linapump IIIr 150/125 D, a CAB hydrocyclone unit 518 HD-TZ-RE, including a special material distributor, a control cabinet, pipelines, maintenance platform with railings and a stairway. The screen deck is split by a division plate into 2 screening areas. This allows the installation of screen panels with different mesh sizes to achieve 2 different fractions in one porduction run.
The Linatex centrifugal pump is characterized by high-quality Linatex wear protection, high efficiency and low operating costs. The pump is maintenance friendly and equipped with crane and crawl, a height-adjustable motor platform and a drain plug for winter emptying.
The plant is fed by a wheel loader via feed hopper with a do-sing belt and a feeding conveyor belt, which discharges into the pre-wash unit. The material to be processed is fed to the pre-wash unit in a dry state, where it is primarily mixed and washed with water. Afterwards, it passes a turbidity distributor to reach the screen deck of the dewatering screening machine, where it is dewatered, screened and discharged using a discharge chute. The screen throughput containing the fine material is collected in the underflow collection tank. From here it is pumped to the CAB hydrocyclone by a centrifugal slurry pump for separation.
The hydrocyclone underflow reaches a material distributor, where it can be passed over to the second screen area to be dosed, either completely or variably, and then being dewatered. This enables the flexible correction of the grain size range and the precise extraction of the proportion of fine sand. The material of this screen area is processed to another chute for discharge using a second conveyor belt for builiding a stock pile of a different sand fraction.
The overflow of the CAB hydrocyclone is passed to the downstream wastewater treatment unit without pressure. The wastewater treatment has been an inherent part of the entire plant for more than ten years. The heart of it is the high-throughput clarifier with a diameter of 10 m along with the two chamber filter presses, which run in 24 hour operation.
The CAB compact system of the CABrex type is a self-contained processing plant, which carries out dewatering, classification and desliming of solids-water-suspensions with utmost separation efficiency.
CAB compact systems combine the functions of bucket wheel, sand screw, dewatering screen and hydrocyclone in a confined space while ensuring a higher degree of dewatering, desliming and separation with a sharp cut point. Depending on application the compact systems can be designed to customer specifications and adapted to the most demanding requirements of wet-mechanical processing.