Crushing cavity kinematics further improved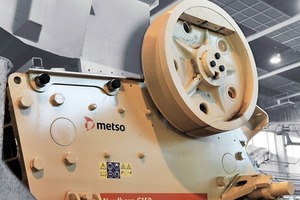 1 Der neue Nordberg C150 kann als stationäre Einheit oder als raupenmobiler Lokotrack eingesetzt werden • The new Nordberg C150 can be used as a stationary unit or as a track-mounted Lokotrack crusher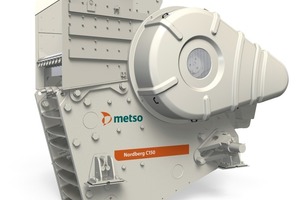 2 Die optimierte Brechraumgeometrie ermöglicht erhöhte Verarbeitungsgeschwindigkeit und störungsfreien Materialfluss bis zum Austrag • The optimized geometry of the crusher cavity enables increased crushing rates and uninterrupted material flow to the discharge
The Nordberg C150 is the latest development in the C series in the 50-t-weight class and ready to take on the toughest challenges in large-scale quarrying and mining operations. The jaw crusher concept proven since the 1970s has already been implemented in over ten models of this series.
The new Nordberg C150 can be used both as a stationary unit and as a track-mounted Lokotrack crusher (Fig. 1). Originally designed for crushing hard rock, the new primary crusher in Metso's C class has been generously equipped in its design to cover all applications. The width of the feed opening is suitable for especially large feed pieces measuring up to 1 m in width and a maximum of 1.20 m in length, which can already be broken up at the top of the crushing chamber. Thanks to the exceptionally steep feed geometry and tight nip angle, the optimized crushing cavity geometry ensures increased crushing rates and trouble-free material flow to the discharge (Fig. 2).
The responsible product manager Ilka Somero from Metso, Finland, explains "Thanks to the improved feed behaviour, all coarse materials – even ores – can be crushed smoothly, without interruption, and cost efficiently with this new crusher."
No signs of fatigue in continuous operation
Many parts of the crusher are constructed without welded seams – the modules of the sidewalls are attached with pins and bolts. Overall, the crusher is much more resistant to vibration fracture. The uninterrupted and therefore higher throughput is not least down to the higher eccentricity of the eccentric shaft, the optimized gap angle, the attachment of longer crushing jaws and long crushing stroke. In addition, the possibility is available to operate the crusher with different strokes depending on the size reduction required and the abrasiveness of the feed material (with consideration of the wear).
Similar to the other models in the C series, the C150 is very easy to set up for operation. Numerous optional components such as motor base or feed chute can be attached in line with the basic modular concept. Other operator-friendly options include hydraulic gap adjustment, the integrated motor base with electric motor, composite guards and a feed chute with wear protection.
Safety is top priority
Safety of the operatives is the top priority with regard to operation and maintenance: already during development, great importance was attached to making a limited number of service points accessible (optionally with safety covers) for maintenance. Operation, greasing and condition monitoring can all be fully automated if the operator requires. Lifting tools for crusher components are supplied as standard. The Nordberg C150 can be very practically installed above or underground thanks to its modular design. For transport the crusher can be dismantled into individual parts (Fig. 3). Especially for applications underground and in confined spaces, this method of installation has proven very useful.
Thanks to the compact design, the crusher structure is well balanced. As a result the dynamic torque loads on the support structure are much lower.