IFAT Munich in May
Driving environmental and climate protection
The sustainable use of resources – and thus climate protection – is the major topic of IFAT Munich, which will be held from May 30 to June 3, 2022 at the exhibition center in Munich. International interest in the World's Leading Trade Fair for Water, Sewage, Waste and Raw Materials Management remains strong. The global community needs environmental technologies – the trade show brings them to life and provides the network to address the greatest challenge of our time.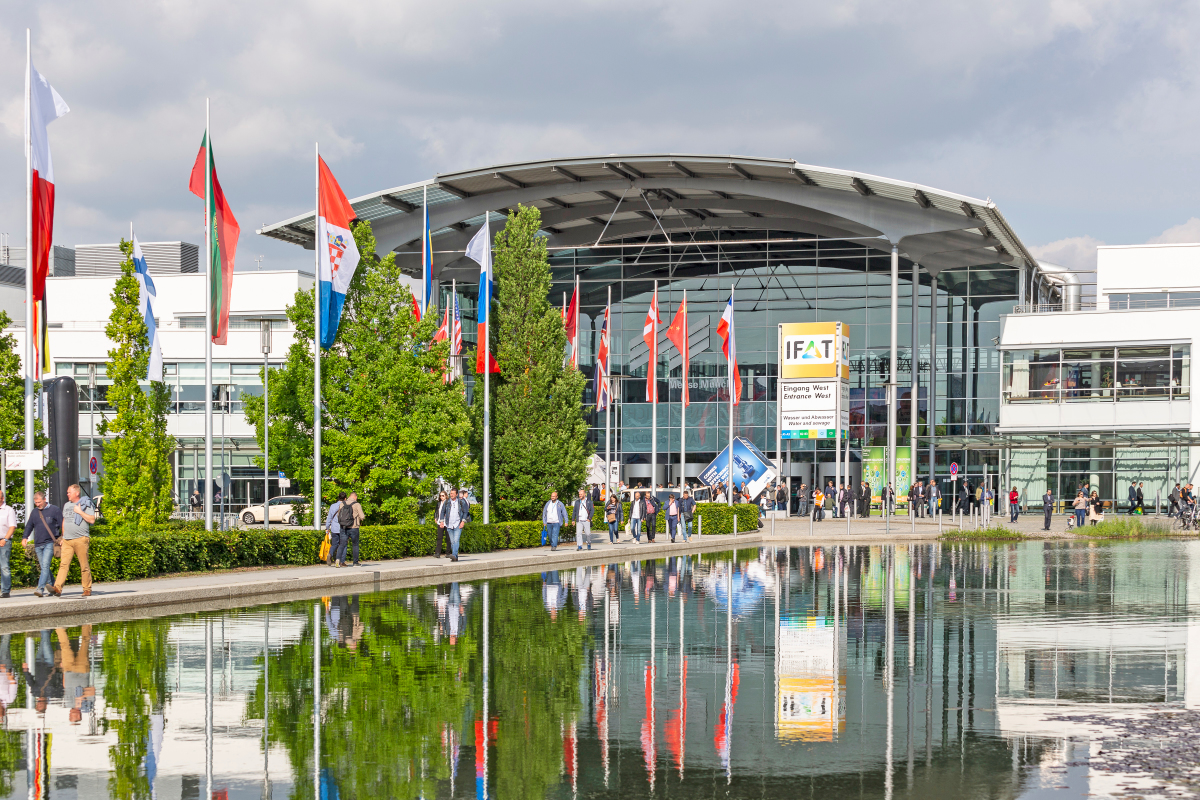 IFAT Munich in May: More than 2500 exhibitors from 50 countries registered so far
© Messe München
IFAT Munich in May: More than 2500 exhibitors from 50 countries registered so far
© Messe München
"Preparations for IFAT Munich are running at full speed, with all 18 exhibition halls and a large part of the outdoor area occupied. This is a very strong development, even compared to the record-breaking edition in 2018," explains Stefan Rummel, Managing Director of Messe München. So far, some 2500 exhibitors from more than 50 countries have registered, "and we continuously receive numerous further requests".
Environmental, resource and climate protection is more urgent than ever in the minds of the global community, "and IFAT brings together the international decision-makers, experts and market players in one place to tackle the major challenges," Rummel continues.
Top market players in all segments
All exhibition sections are well booked; in some cases the demand is even greater than the space available. In the area of "Circular Economy and Waste Management", exhibitors will include: Remondis, Veolia, PreZero, EEW, Doppstadt, Komptech, Arjes, Sutco, Eggersmann, Lindner, Zeppelin, Sennebogen, Liebherr, Komatsu and Zöller-Kipper.
In the "Water & Sewage" sector, registrations include: Wilo, Huber, Invent, Grundfos, KSB, Sulzer, Xylem Europe, Endress+Hauser, Gea Westfalia Seperator Group, Kaeser Kompressoren, Enviro Chemie, Otto Graf, Aerzener Maschinenfabrik, Veolia Warer Technologies, AVK Armaturen, Hawle, Talis, Siemens and Hermann Sewerin.
"Municipal Technology" will be represented by, for example, Faun, Bucher Municipal, Aebi Schmidt, Küpper-Weisser and Fayat; in the vehicles section, exhibitors will include Iveco, Scania, Volvo, DAF, Daimler Truck and Mercedes Benz.
Strong international presence
In addition, there will be international joint pavilions from Belgium, Denmark, France, Great Britain, Italy, Japan, Canada, the Netherlands, Austria, South Korea, Switzerland, the Czech Republic, Turkey, Hungary, and the U.S.
Also from Egypt, Australia, Brazil, Ivory Coast, Jordan, Qatar, Saudi Arabia, and Ukraine there will be exhibitors. In terms of visitors, there are already inquiries for delegations from Egypt, Brazil, Portugal, Romania, Saudi Arabia, Singapore, and many other European countries.
Associations and start-ups alike rely on IFAT Munich
In keeping with the established tradition, many national and international associations are actively involved in shaping the trade show program, be it as exhibitors, with special shows, live demonstrations, solution tours and lectures.
The start-up area is more popular than ever: "It is highly exciting to see how much interest start-ups are showing in the fair. They urgently need access to the markets to bring their innovative solutions to the world," explains Philipp Eisenmann, Exhibition Director IFAT Munich. "And in doing so, they precisely reflect the success factor of trade fairs and IFAT Munich: all key market players will meet face-to-face in one place, expand their network and promote their business success."
Messe München recommends the following safety standards
With the changes of the Infection Protection Act (IfSG), protective and hygiene measures are no longer mandatory. Messe München nevertheless recommends that its visitors and exhibitors adhere to safety standards that have now been learned for their own protection and that of others. This includes, among others, continuing to wear a mask voluntarily and keeping a minimum distance.
All ventilation systems are operated with the hightest possible proportion of fresh air and the lowest possible proportion of recirculated air. This maximisation of the air exchange rate ensures the highest possible proportion of fresh air. In addition, CO2 sensors additionally control the recirculation rate whereever possible. Messe München ensures regular and sufficient hand hygiene for all participants. Disinfection dispensers are available at entrances and in front of sanitary facilities.