Easy weighing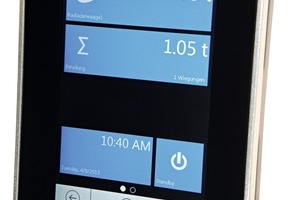 1 Die Radladerwaage der WK60-Baureihe wird wie ein Smartphone per Touchscreen mit entsprechender Oberfläche bedient • The wheeled loader scale from the series WK60 is operated like a smartphone by means of a touch screen with a corresponding user interface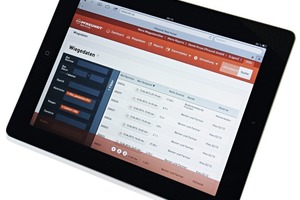 2 Das PFREUNDT Web Portal stellt dem Anwender per "Cloud Computing" seine Wiegedaten und Auswertungen jederzeit und überall zur Verfügung – am PC, Tablet oder auf dem Smartphone • The PFREUNDT web portal provides the user with the weighing data and evaluations at all times and everywhere by means of cloud computing - on the PC, tablet or smartphone

In addition to the current delivery program of mobile weighing systems, the weighing specialist PFREUNDT presented the weighing technology of the future with the newly developed series WK60 and the new web portal at this year's bauma. The innovations were very well received by customers, interested parties, dealers and manufacturers. The systems could not only be seen at the stand of this German leader in the world market but also at the fair stands of many leading suppliers of construction machinery and equipment, mobile crushers and container vehicles. With a service network covering the whole area, international agencies and subsidiaries, more than 30 years of experience and the know-how from 30 000 systems already sold, the manufacturer offers a one-stop comprehensive service to his customers - from consulting, installation and aftersales service up to calibration service.
1 Prototype of the new wheel loader scale from PFREUNDT
Many ideas and suggestions from employees, international customers, dealers and agencies, which, amongst other things, had been discussed in a workshop with the topic "The scale of the future", are reflected in the prototype of the new wheel loader scale in the series WK60 (Fig. 1) that was presented for the first time. The new scale is scheduled to be ready for sale from 2014 and will be designed in a first step for the markets of intralogistics, agriculture and forestry as well as for the emerging countries. The new scale is characterized by the touch screen with an easy and intuitive operation like that of a smartphone as well as by the connection to the new PFREUNDT web portal.
2 PFREUNDT web portal as software service
The new PFREUNDT web portal offers the user the data maintenance and communication from and to the scales by means of access to the Internet as well as the evaluation and processing of the weighing data (Fig. 2). Without the installation of additional software or special hardware, the user has access to all functionalities by means of his web browsers. The portal software is always up-to-date and the centrally stored data are available 24 hours a day and 7 days a week.
With the slogan "Software as a Service" (SaaS) the weighing specialist, as service provider, relieves his customers of the administration of their IT landscape and, at the same time, ensures the maximum availability of the data (Fig. 3). In this way, for the customer the flexibility of his workflow is increased. Further features of the web portal are:
• Country-specific adjustments
• Multilingual
• Customer-related adjustments
• Messaging system
• Monitoring
• Data safeguarding due to modern server technology in certified computer centres
• Various interfaces (e.g. ERP)
• Coded data exchange
• Possibilities to update network scales
• Error diagnosis
• Relocated printing of delivery notes or invoices