Eco-friendly and Wear-resistant: New Drive Solutions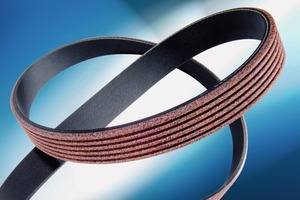 (Photo: ContiTech)
Die Textilbeschichtung schützt den Keilrippenriemen Unipower Tough Grip von ContiTech auch in staubiger und sandiger Umgebung vor Verschleiß # The textile layer protects ContiTech's Unipower Tough Grip V-ribbed belt from wear, even in dusty and sandy environments
(Photo: ContiTech)
The ContiTech Power Transmission Group has expanded its range of drive belts for industry. A new V-ribbed belt is working reliably in offroad vehicles such as agricultural and construction machinery thanks to its highly wear-resistant fabric layer. The BlueConcept family, with which ContiTech provides the environmentally friendly drive for many industrial application fields, has also been expanded.
Textile layer offers protection from wear
With the Unipower Tough Grip, the ContiTech Power Transmission Group now offers a new V-ribbed belt with a textile surface for industrial applications. The belt has a very low friction coefficient thanks to its pulley side, which is coated with a highly wear-resistant, dynamically extremely stable special fabric. At peak forces, the belt can thus slip briefly. This ensures a reliable drive. The textile layer protects the belt from wear, even in dusty and sandy environments. This makes it particularly suitable for accessory drives in offroad vehicles. Different tests in agricultural and construction machinery have been successfully started. The first series production approval is already available.
In the automotive industry, the Unipower Tough Grip from ContiTech has already proven its value. The fabric-reinforced belt running side ensures low levels of wear, optimum grip, and a maximum level of smooth running, even in conditions such as a cold engine start, humidity, or pulley misalignment. ContiTech produces the belt using a special, solvent-free method.
Environmentally friendly drive for all applications
The ContiTech Power Transmission Group has expanded its range of environmentally friendly applications that protect people's health. The belts, which ContiTech offers under the BlueConcept label, aim to protect resources by using renewable raw materials, replace chemical components with natural ones, and lower energy consumption and emissions. "Judicious use of resources and environmental sustainability are cornerstones of our strategy. Thanks to the expanded BlueConcept family, we can provide the environmentally friendly drive for many areas of application in industry," declares Regina Arning, Head of the Industry Segment at the ContiTech Power Transmission Group.