Even greater stability, even better quality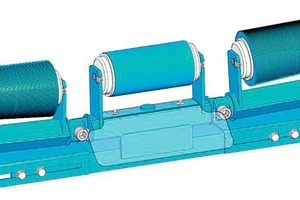 Quelle/Source: Stricker GmbH & Co. KG
1 The manuzent NOVUM is manufactured completely in Germany and impresses with numerous technical enhancements
Quelle/Source: Stricker GmbH & Co. KG
The robust belt centring stations from Stricker use a system of conical outer idlers to ensure permanent centring of conveyor belts in real time. With this system, belts and conveyor components are protected against wear, production downtime is avoided and the risk of injury to operatives minimized.
At bauma 2016, Stricker presented the pre-production version of its new manuzent NOVUM, which has been manufactured in series and sold since June 2016. The manuzent NOVUM is a high-quality proprietary-developed product from Stricker. In future, all components of this centring station will be manufactured and finally assembled in Germany (Fig. 1).
On the technical side too, compared to the predecessor model, several advances make the manuzent NOVUM more stable and durable. For instance, the outer idlers are fitted with one-piece, conical sleeves with grooved surfaces. This enables a better grip on the conveyor belt and enhances the steering features of the station. For maintenance purposes, the idlers are no long installed from the top, but inserted from the front, so that the belt no longer has to be lifted up. The joint with which the manuzent is adjusted to the pitch of the belt was very sensitive in the predecessor model and has been reinforced and stabilized in the new design. For adjustment to different troughing angles, suitable toggles are suppled and can be fitted directly during installation (Fig. 2).
The manuzent NOVUM is the first of a whole series of developments in belt centring and cleaning that Stricker intends to launch onto the market in the course of this year.