Exceptionel conveyor belt system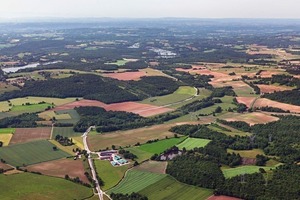 Quelle/Source: ContiTech / TECHMI
1 Der endlose Stahlseilgurt ist insgesamt etwa 13 km lang • The endless steel cord belt is about 13 km long
Quelle/Source: ContiTech / TECHMI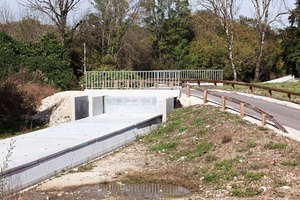 Quelle/Source: ContiTech / TECHMI
2 Das System integriert sich problemlos in die Umgebung • The system blends into its surroundings without any difficulty
Quelle/Source: ContiTech / TECHMI
The community of Montalieu lies in eastern France between Lyon and Geneva. It's a small town located on the banks of the Rhône and home to the cement plant Vicat. To bring in limestone from the quarry 6.2 km away, Vicat required a cost-effective solution. Techmi, the French expert in bulk handling compiled a quotation including specific requirements concerning the belt and realized the project with ContiTech as strategic partner.
The endless belt is about 13 km long and does a twist and turn on the head and tail of the system to run parallel to the loaded belt on the return (Fig. 1). "For Vicat and Techmi the classic return solution wasn't really an option on this occasion. The innovative turn solution means we now have a base construction which is not higher than just 80 cm," explains Nicolas Raphaël, team leader of the French conveyor belt team. Another advantage is that limestone residues remain on the returning belt rather than falling underneath it. This makes the system considerably easier to clean and is an advantage not just for Vicat but also for the environment. The system blends into its surroundings without any difficulty – based on a patent of Techmi (Fig. 2). Concrete walls and a cover encase the conveyor belt. People, animals and vehicles can cross over the construction without any problems.
The belt as well as the steel cords for the carcass were produced by ContiTech Imas in Volos, Greece (Fig. 3). "It's basically a STAHLCORD ST1000-5+5 X, a steel cable conveyor that's resistant to abrasion, weather and corrosion. It's also thermally stable, highly durable and low maintenance," explains Raphaël. ContiTech produced and delivered it within the space of just five weeks. In a first step, 13 rolls of one kilometre weighing 20 tonnes each were shipped from Volos to Fos-sur-Mer on the French Mediterranean coast. From there they were transported in a spectacular heavy duty truck convoy to Montalieu. In Montalieu the team from ContiTech France and the service team from HQ in Northeim/Germany, were on site to assemble the belt. "We did the job in two stages and spent a total of two months on location," says Jan Poppe, Head of Field Service International.
The 250 tons conveyor belt is now in operation, powered by three electric motors delivering 250 kW each. In normal conditions, the belt can transport up to 700 tons of limestone an hour. At maximum capacity, it can shift as much as 1000 tons. The belt has officially been in operation since mid October 2014.