HAVER & BOECKER OHG, Die Drahtweber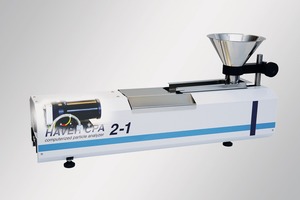 Quelle/Source: HAVER & BOECKER
1 Das neue HAVER CPA 2-1 mit erweitertem Messbereich und verbesserter Messqualität • The new HAVER CPA 2-1 with wider measurement range and improved measurement quality
Quelle/Source: HAVER & BOECKER
AT MINERAL PROCESSING:

What highlight are you presenting at SOLIDS Dortmund 2018?

HAVER & BOECKER: At this year's SOLIDS in Dortmund, Haver & Boecker is presenting its new CSA evaluation software for particle analysis. It enables simplified capture of sieving data with the help of a Data Matrix Code (DMC) on the HAVER analysis sieves and a handheld scanner. The sieving data are automatically imported into the sieve file of the CSA evaluation software. The scanning function also enables the selection and the generation of a correct sieve set. It also possible to check whether screens have been fitted into the sieve tower in the right order.

The Data Matrix Code can be retrofitted to existing analysis sieves if not already fitted. Available are two different packages: Package 1 with the full version CSA Expert with a scanner and Package 2 is a CSA upgrade to EXPERT with a scanner.
AT MINERAL PROCESSING:

What is the most exciting development in your business division at present?

HAVER & BOECKER: In dynamic image analysis (DIA), the proven HAVER CPA 2-1 laboratory analyser for photo-optical analysis of particle size and shape of dry, non-agglomerating bulk solids particles has been upgraded by Haver & Boecker from Oelde, Westphalia in line with the latest technological developments.

In addition to the proven strengths (including low investment costs, GigE camera interface and optimum reproducibility with short measurement times) of the computer-assisted analyser, the measurement range has been widened and now covers from 0.020 – 30 mm. In addition, thanks to the improved measurement quality, the analyses are now more precise and extensive.

Important and crucial details for the optimization of the workflow and measurement quality for the HAVER CPA 2-1 analyser also lie in the continuously further developed software. Of course, the latest Windows and operating standards with full support for Windows 10 are available. Moreover, many new parameter options and optimized features, such as automatic chute heights, ultrasound and pre-drying are available.
AT MINERAL PROCESSING:

What do you expect from the trade fair as an exhibitor?

HAVER & BOECKER: From the bulk solids industry we are expecting interested visitors and decision-makers, who will be able to view and use our technology for quality control and measurement of bulk solid particles at the trade fair stand.
AT MINERAL PROCESSING:

Give me three catchwords that best sum up SOLIDS Dortmund 2018 for you:

HAVER & BOECKER: Regional, local, home

Stand: A 11 – 4