High reactivity
Flue gas desulphurization by the semi-dry process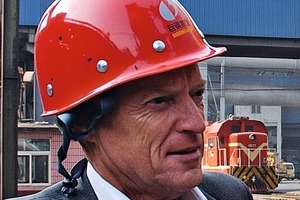 Summary: The combustion of sulphurous organic substances releases sulphur oxides which are harmful to the environment and health. These compounds must be extracted from the flue gas by a suitable procedure. The degree of adsorption in flue gas desulphurization in incinerators can be optimised by the semi-dry process using Lödige mixing reactors: due to precisely adjusted humidification this can be achieved without losses in the particle and thus reaction surface.
Flue gases with environmentally harmful sulphur compounds (SO2 and SO3) are produced wherever sulphurous organic material is incinerated. Sulphur oxides occur in coal-fired power plants, waste incinerators or pig iron manufacturing in steelworks. Regulations require that these be removed from the flue gas (Fig. 1). In all procedures this is achieved by the addition of a sorbent such as calcium hydroxide, sodium sulphite, ammonia, lime or pulverized limestone.
1 Direct desulphurization and wet process
Conventionally, flue gas desulphurization functions either by direct desulphurization or the...