Ideal solution for effective use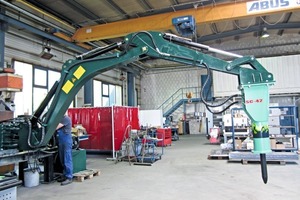 1 Hydraulikhammer mit Standard-Auslegersystem von LEIBLEIN MINING • Hydraulic hammer with standard boom system from LEIBLEIN MINING
LEIBLEIN MINING offer customized solutions in the fields of drilling, rock breakers and special machinery to be used in mining and quarries. The parameters are discussed with the customer in advance. Then the solutions are specified locally based on the existing conditions. The standard components, fixing equipment, operating ranges as well as the hammers selected are optimally designed according to the conditions prevailing at the customer.
Based on the standard boom systems of LEIBLEIN ­MINING, a large product portfolio of hydraulic hammers in the size range of 100 to 750 kg with compact and slender dimensions, wear-resistant parts as well as a guarantee period of 1 & 2 years is available (Fig. 1). Furthermore, hammers according to the customers' request or hammers supplied by the customer can also be used in the boom systems. The boom systems are continuously further developed, i.e. in order to achieve larger operational ranges with compacter mounting sizes or smaller mounting conditions, respectively, the systems are expanded by corresponding devices, if necessary, such as tailored and operator-friendly telescopic boom and column systems. Many boom systems have a compact and rugged hammer support including rotary actuators without cylinder kinematics as a preventive measure to avoid ­damaged piston rods and, consequently, hydraulic leakage and contaminated material. Depending on the conditions of use and for reasons of safety, the boom systems are designed with load retaining systems on the cylinders.
As regards the fixing systems, LEIBLEIN MINING offer a large range of supporting structures, such as columns (in vertical position or folded/angled), cross beams, floor and wall fixing devices, according to the local conditions. The fixing systems from LEIBLEIN MINING comprise various slewing angles including cylinders up to 180 °. Slewing units including compact excavator slewing gears and brakes enable slewing ranges of more than 180 ° up to endless. As regards the endless slewing ranges, systems with hydraulic rotary transmissions and electric slip ring systems developed by LEIBLEIN MINING are used. Thus, an endless rotation of the boom including the hammer in both directions of rotation as well as safe positioning are ensured.
The LEIBLEIN MINING boom system is welded and manufactured according to DIN EN 1090-1. The production includes continuous and documented quality controls according to the current quality standards. Amongst other things, boom systems have been delivered for the following requirements:
• to remove coating material (loam, clay, wet rock) from the feed hopper
• to remove coating material from vessels (disposal of material handled in shafts)
• compact rock breakers to remove brick lining from kilns
• mobile systems to crush and separate rock (Fig. 2)
Rock breaker and boom systems from LEIBLEIN MINING essentially contribute to the labour safety. Undesired problems in crushing plants, such as jammed material, bridging in the feed hopper, in the material feed systems and above the crusher opening, lead to expensive interruptions of production, which may be avoided by means of rock breakers from LEIBLEIN MINING. Rock breakers are used actively ones on dumping grates for customers all over the world so as to increase the crushing capacities (Fig. 3). Rock breakers from LEIBLEIN MINING are controlled according to the local conditions at the customers by means of hand valves, remote-controlled cables or radio remote control or by a combination of these.
An efficient, electrically controlled hydraulic unit completes a rock breaker as a core part. In this case LEIBLEIN MINING offer compact solutions or dual solutions by means of existing generators. Compact units from LEIBLEIN MINING are designed and manufactured appropriate to the conditions at the customers. Ambient temperatures of -55 °C up to +60 °C are no problem. The rock breakers designed and manufactured by LEIBLEIN MINING are mounted by an experienced erection team. The design department of the company is always ready to help if the customer carries out the erection. Existing rock breakers, which are not operating to the operator's satisfaction, can be updated by means of the LM rock breaker thus making an effective use of the units possible.