Mining in Brazil offers an array of opportunities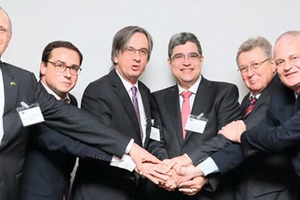 Quelle/Source: VDMA
Brazil had to start seeing itself as an export nation, said VDMA-President Dr Rheinhold Festge (second from right). The photo shows attendees at the conference together with the Director of the German Centre of Expertise for Mining and Mineral Resources in Sao Paulo, Alessandro Colucci (second from left)
Quelle/Source: VDMA
The mining sector in Brazil is not only an important raw materials supplier for German industry, it also offers companies from Germany opportunities for investment over the entire value creation chain. This applies not only to cooperation in large-scale projects, but also to projects with smaller, aspiring Brazilian mining companies. However, the country had to make greater efforts to improve the quality of the training of technicians and skilled workers, said VDMA President Dr Reinhold Festge at the first German-Brazilian Mining Conference, which took place on 9 and 10 August in Belo Horizonte in the Federal State of Minas Gerais. Brazil had to start seeing itself as an export nation, Festge summed up.
Antônio Castello Branco, Director of the Society for Economic Development of the Federal State of Minas Gerais (CODEMIG), stressed the great efforts his state was making to process the raw materials available there in a more complex value creation chain. In this connection he appealed to German suppliers and industry partners to get involved in CODEMIG projects. This applied primarily with regard to the development of a value creation chain around permanent magnets, which, amongst other things, play a key role in power generation at wind power installations. CODEMIG operates its own mines in which the raw materials (rare earths) needed for the magnets are extracted.
Brazil's mining industry has a broad base: almost 8900 companies (including non-metallic minerals sector) are registered. Only the 1233 companies regarded as "medium size" each produce between 100 000 and 1 mill. t material annually. The product portfolio is not limited to the classical export of iron ore, but also comprises gold, bauxite, phosphate, manganese, copper, diamonds, lead, rare earths and zinc. In the view of Rolf Fuchs, founder of integration, a consultancy firm based in Belo Horizonte, it was therefore high time to look to the small- and medium sized mining companies. Their orders were not on the scale of the major projects, they did, nevertheless generate a demand for technology investment.
Sven-Uwe Schulz from the German Mineral Resources Agency (DERA) in the Federal Institute for Geosciences and Natural Resources highlighted the demand of German industry, which depends to a large extent on raw material imports. From Brazil alone, Germany imported raw materials to a value of 2.13 bill. € last year (2015). These included iron ore (1.35 bill. €), copper, graphite, precious stones, niobium, magnesite, tin and manganese. Here potential exists for Brazilian suppliers to grow their share in German imports of raw materials and pre-products.
The German ambassador Dirk Brengelmann stressed that the German interest in Brazil should not just focus on São Paulo for their investments. He expressed the hope that the mining and raw materials conference would be held regularly in Belo Horizonte in future, perhaps even as a fixed arrangement in a bilateral agreement. Thomas Timm, General Secretary of German-Brazilian Chamber of Industry and Commerce, also expressed his optimism: "Now it's the time to talk about future projects."
Overall, the 130 participants at the conference confirmed the great demand for intensive transfer of information and experience between Brazil and Germany. The next German-Brazilian Mining Conference will take place in the coming year, once again in Belo Horizonte.