Wide range
Mobile processing equipment in Eastern Schleswig-Holstein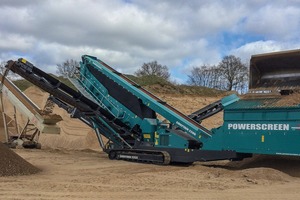 Quelle/Source: Christophel
1 Kieswerk Tarbek: Absiebung bei 2 mm mit Powerscreen Chieftain 2200 und Telestack Haldenband • Tarbek gravel plant: screening at 2 mm with Powerscreen Chieftain 2200 and Telestack stockpiling belt
Quelle/Source: Christophel
W‌hen it comes to mineral processing, Udo Pfeiffenberger from the company Harry Pfeiffenberger has trusted Christophel, a firm based in Lubeck/Germany, since 1994. A look at the order history reveals 21 successful deliveries. The spectrum is wide: starting from a used "Powerscreen Mark II" to the current flagship in the range, the "Powerscreen Chieftain 2200". This mobile screening factory started operation in Tarbek in 2016 and has been operating since then in this demanding application for separation of a 0 – 2 mm sand. Shortly after commissioning, Udo Pfeiffenberger complemented this screen with a "Telestack TC424X" track-mounted stockpiling belt to stockpile the volumes of material produced (Fig. 1). For graded blends usually demanded in lower volumes, Pfeiffenberger operates a track-mounted "Powerscreen Chieftain 1700" as a triple-deck screen. Flexibly used screen decks with a wide range of coverings produce four special sizes; classified with high efficiency. A "Powerscreen Warrior 1400" covers the demand for soil remediation in Tarbek. To keep pace with the throughput rates, this machine also works with a TC421 Telestack stockpiling belt.
In the Kembs gravel plant, the requirements for mineral processing systems are similarly high, but completely different. The deposit is permeated by clay and very difficult to screen. In addition, large volumes of uncontaminated soils are processed in large volumes. Two track-mounted Powerscreen Warrior models are giving faithful service in Kembs. The newer model "Warrior 1400X" is also operated here with a track-mounted "Telestack TC424X" stockpiling belt to meet the high throughput rates with commensurately high stockpile volume (Fig. 2).
The latest investment was made by Udo Pfeiffenberger in 2018 with the acquisition of a track-mounted crusher "Rubble Master RM 100Go!". A decision that was mulled over longer as the recycling volumes to be processed alone did not justify the acquisition. However, in Pfeiffenberger's gravel extraction, not inconsiderable quantities of oversize 32 – 150 mm are produced, which can now be processed as high-grade gravel base courses 0 – 32/45 mm. As a flexible and highly mobile machine, the "RM 100Go!" can also be operated on the construction sites. The Rubble Master was already completely convincing even during commissioning. Extremely short set-up times, excellent accessibility and easy operation impressed the machine operatives. The owner is very enthusiastic about the high throughput rates, the favourable wear rates, moderate consumption and oversize recirculation downstream of the integrated screen box.