Mobile dewatering
New Multiflo® LF pump range
W‌ith the new mobile Multiflo® LF pump range, Weir Minerals offers robust and high performing mobile dewatering pump packages suitable for sites with variable conditions, including applications where liquids may contain high percentages of solids to be transported or acidic conditions with low pH values. Not only versatile and highly mobile, the Multiflo® LF is engineered for efficiency with an enclosed impeller design and leading-edge materials that dramatically reduce total cost of ownership.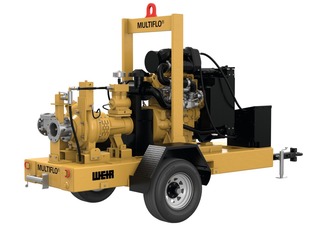 1 New mobile Multiflo® LF pump range
© Weir Minerals

1 New mobile Multiflo® LF pump range

© Weir Minerals

The Multiflo® LF pump is available in different configurations to meet the varied demands of dewatering applications around the world. The pump can be supplied with a portable trailer, or as skid-mounted packages with diesel engines (T3 & T4F rated engine emissions) or electric motors drive options. No matter the configuration, the Multiflo® LF pump range provides a dependable pumping solution with flow rates ranging from 100 m3/h to 3200 m3/h and discharge heads of 10 m to 210 m. The pump features a hydraulically superior enclosed impeller design and larger diameter pump-shafts, that allows the Multiflo® LF to efficiently handle large solids while reducing operational and maintenance costs. This is achieved through the advanced, high-efficiency pump-end that requires less energy to process fluids, operating under reduced power requirements, and in-turn consuming less fuel (LPH) or electricity (kW/h).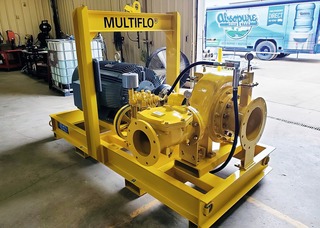 2 The Multiflo® LF pump is available in different configurations
© Weir Minerals

2 The Multiflo® LF pump is available in different configurations

© Weir Minerals

The enclosed impeller is further supported by a stout bearing frame and large diameter shaft that is less prone to deflection during cavitation. The design of the Multiflo® LF pump range is proven to result in fewer seal failures and far fewer instances of shaft breakage in extreme conditions. "With this range, we deliver a complete dewatering pump package, with compressed delivery times, that can withstand almost anything, including misapplication due to improper pump selection," says Ian Ross, Global Product Manager for Dewatering Solutions at Weir Minerals. "With the high-head Multiflo® LF pumps the double pump volute equalises internal pressure to eliminate radial thrust, which helps prevent both seals failure and shaft breakage."

The innovative engineering and efficient fluid handling of the Multiflo® LF are complemented by the heavy-duty wear-resistant materials of construction that include cast steel and cast CD4MCu stainless steel for enhanced abrasion and corrosion resistance. Casting the pumps from steel creates a more robust pump and additionally promotes extended wear-life with the possibility of weld repairing the casing should a problem develop.

After successful installations across North and South America, South Africa, and Kazakhstan, the complete Multiflo® LF pump range is available globally from October 2020. Customers worldwide have access to regional experts for dewatering solutions and a comprehensive global aftermarket service offering for cost-effective and value-added service options.