Optimized solution
New design for dust suppression machine V12S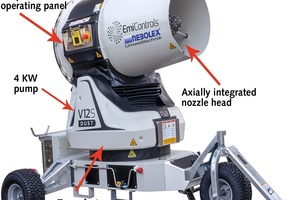 Quelle/Source: Nebolex
1 Staubbindemaschine V12S: Wurfweite bis 65 m / 8000 m², B x H x L / 1150 x 1890 x 1820 mm, Gewicht 600 kg, Schwenkwinkel 350° / Neigungswinkel -18 ° – +40 °, Min. Wasserdruck 3 bar • V12S dust-binding machine: launch range up to 65 m / 8000 m², W x H x L 1150 x 1890 x 1820 mm, weight 600 kg, rotation angle 350 °; tilting angle -18 ° – +40 °; min. water pressure 3 bar
Quelle/Source: Nebolex
C‌ompanies in the fields of demolition, construction site, material handling, recycling, quarrying, mines, steelworks and cement plants often struggle with the problem of heavy dust generation. Residents, clients and the legislation increasingly demand solutions. Polluters are legally obliged to reduce their dust emissions by means of appropriate measures. The use of dust binders is therefore essential.
Dust reduction is a top priority of NEBOLEX Umwelttechnik. Now the company is offering the dust suppression machine V12S with a new design and technical optimizations. All functions known from previous models have been retained and completed by accelerated revolutions and a larger angle of inclination. Start-up time has been reduced while the swivel speed has been increased. Due to the sophisticated valve technology, the water volume can be remotely controlled in three different consumption rates. The water flow amounts to 16 -100 l/min.
With a noise emission of 60 dB (A) within a radius of 20 m, the specially designed turbine is particularly quiet. The turbine operates at two speed settings, thus it is possible to spray fine mist of water of 25 - 65 m. The patented spray head is axially installed and achieves a significantly higher throwing range than comparable nozzle configurations. The targeted mist jet is less susceptible to wind.
Depending on the field of application, the various models from V7 to V22S to V22 have their advantages. For questions about the individual machines and their optimal use, NEBOLEX Umwelttechnik is at your disposal as well as for any service work. An extensive maintenance warehouse in OEM quality ensures reliable assistance.