HYUNDAI
Rewo-Recycling again invests in Hyundai large wheel loader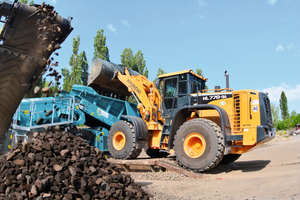 Quelle/Source: HHI/TT-Communications
1 Hyundai-Großradlader HL770-9A mit 4,2-m3-Schaufel beim Beschicken einer Siebanlage bei Rewo-Recycling in Leipzig • Hyundai large wheel loader HL770-9A with 4.2-m3-buckets during feeding of a screening plant at Rewo-Recycling in Leipzig
Quelle/Source: HHI/TT-Communications
Rewo Recycling based in the Northeast of Leipzig was established in 2010. When the company started, they bought a new Hyundai wheel loader HL770-9 which Kristina Rieger, managing director of the company, supplemented by a brand-new Hyundai large wheel loader of the HL770-9A series in April 2014. "We have premises with a size of 22 ha", the charismatic managing director explains, "so our first wheel loader had to make almost 16 000 km in four years – up to now it has performed 5000 operating hours." Hyundai retailer Tecklenborg from Leisnig sold the machine and now supervises the maintenance contract for old and new machines providing the operator with a solid calculation basis – only fuel and tires are excluded (Fig. 1).
Rewo is specialized in the certified processing of mineral raw materials. Tasks of the wheel loaders are the feeding of screening plant and stationary crusher (maximum feeding size 800 x 800 mm), the stockpiling of the material and the re-loading onto trucks of all sizes. The two wheel loaders at Rewo share the work on the spacious area (Fig. 2). Tecklenborg's customer consultant, Jörg Münzer, designed a wheel loader with a bucket of 4.2 m3 and had it equipped with Michelin XHA2 tires. The new Hyundai wheel loader will work 1300 hours per year. The two yellow Hyundais will only be replaced when major repair is pending. The company offers certified and non-certified materials. The portfolio includes splitting, crushed sand, anti-freezing agents as well as topsoil and other materials for road building, path construction and the construction of sports grounds and for gardening and landscaping.
Wheel loaders in the 4.2-m3-class are used for re-loading, for direct loading at the wall in quarries and for very large building projects. They are mostly operated as key machines and must combine utmost availability with ergonomics, favorable total cost of ownership and, of course, very high throughput capacities.