SOLIDS Dortmund is both business meeting and platform for information and presentation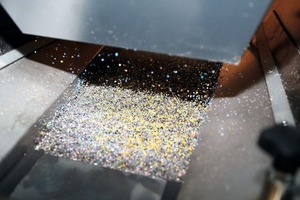 Quelle/Source: Anja Cord
1 The SOLIDS trade show is a business meeting for different industries and a platform for the presentation of versatile treatment and processing steps for fine to coarse-grained materials
Quelle/Source: Anja Cord
The eighth edition of SOLIDS in Dortmund develops into a business meeting for different industries and a platform for the presentation of versatile treatment and process steps for fine to coarse-grained materials. Furthermore, the trade show held in Dortmund from 10th to 11th May 2017 represents a knowledge platform for innovations, trends and current technologies. The comprehensive framework program featuring 100 lectures on five stages, as well as guided tours and the industry-relevant German Congress on Fire and Explosion Protection support the event. Customers and suppliers from Germany and abroad looking for novelties and solutions appreciate the compact exhibition. Some topics offer downright explosive stuff.
"The participating exhibitors really appreciate the opportunity provided by the guided tours to present their very specific novelties and solutions to interested visitors," says Daniel Eisele, Group Event Director and exhibition manager for the show organizer Easyfairs Deutschland GmbH. The guided tours are a popular highlight, equally embraced by exhibitors and visitors, who are led through the show in groups of max. twenty people to see what they are specifically interested in. On their respective stand, the exhibitors have ten minutes to individually attend to interested visitors. Thus, guided tours will take place every day even at the eighth edition of SOLIDS in Dortmund from May 10 to 11, where topics will span the entire value added chain of process engineering of granule, powder and bulk solids technologies. The groups will visit highlights of the dosing, screening, mixing and conveying technology as well as the trends in the field of separation processes, sorting and shredding technology.
With 100 lectures on five open stages, the InnovationCenter as well contributes decisively to the high appeal of the trade show. In concise articles and comprehensive panel discussions, industry experts present current projects, case studies, innovations and experiments from the fields of bulk material technologies and multimodal bulk material transport. An independent consulting committee will select topics and lectures already in the run-up to the event, thus providing a certain balance and ensuring topical relevance. Here, it is all about new machines and process technologies for production, material acceptance, handling and processing as well as in-house mechanical or pneumatic conveyance of bulk material. Additional topics are filling, packaging and storing along with the transport to the final destination.
Explosion demonstrations to promote protection measures
The explosion demonstrations the IND EX® e.V. will present within the framework of the third German Congress on Fire and Explosion Protection are an exciting way to highlight the importance of protection measures. This Congress addresses experts from the fields of fire and explosion protection. Interested parties will find qualified lectures held by experts with longstanding experience in the sector of industrial explosion protection. Keynote speeches and specialized lectures as well as case studies and current laboratory results of research projects provide material for information and discussions on the important topic of fire and explosion protection. With its modular concept and the comprehensive framework program, SOLIDS has developed into one of the most important trade show for granules, powder and bulk material technologies.
GUIDED TOURS - TRENDS AND INNOVATIONS