Sachtleben Minerals wins Silver Stevie Award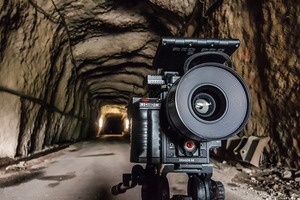 Quelle/Source: Sachtleben Minerals
1 Bild vom Set • Picture from the set
Quelle/Source: Sachtleben Minerals
Sachtleben Minerals GmbH & Co. KG has won the Silver Stevie Award in the category of Video (subcategory of the nomination: Corporate Video/Image Film). Producer of the clip entitled "The Miner" was the company "Rec.Tec Filmproduktion" from Fischerbach. The German Stevie Awards is the most versatile business award in Germany, which this year has taken place for the fourth time since 2015. The awards were officially presented to the prize winners during a festive ceremony at the famous Adlon Hotel in Berlin on April 27, 2018. Sachtleben Minerals, based in Hausach, Germany, as the holding company of the two production companies Sachtleben Bergbau and Deutsche Baryt Industrie Dr. Rudolf Alberti, market barite and fluorite products throughout the world from the productions of the two subsidiaries in the Black Forest and the Harz.
Why an image film/corporate video?
"Glück Auf!" - Who knows that this traditional German miners' greeting is still in use today? Who knows that, also in Germany, precious industrial minerals are extracted by mining in the Central Black Forest? There are probably many things people do not know about mining. To share exactly this information was the aim and the reason for Sachtleben Minerals' decision to produce their own film. Not only did the company want to show the public who they are, but they also wanted to take people on an entertaining trip through a long-standing tradition. Furthermore, the film shall arouse the interest of young people and win them over for an extremely broadly diversified career choice, for example, as a coal hewer or processing technician. The result is impressive. For a local medium-sized company, it is something quite special – and a great success.