Safe-to-Service Conveyor Belt Cleaners Reduce Risk and Service Time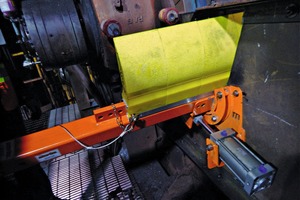 Quelle/Source: Martin Engineering
1 Durch die neuen STS-Bandabstreifer sind bei Wartungsarbeiten seltener das Betreten enger Räume und Hineingreifen erforderlich • The new STS Belt Cleaners reduce the need for confined space entry and reach-in maintenance
Quelle/Source: Martin Engineering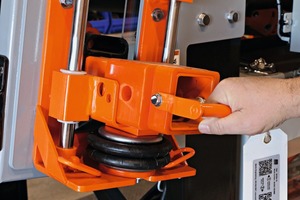 Quelle/Source: Martin Engineering
2 Die Auszug-Konstruktion ermöglicht sicheren Zugang zur Blattkartusche und den Austausch durch einen einzigen Arbeiter • The slide-out design is engineered so the blade cartridge can be accessed safely and replaced by a single worker
Quelle/Source: Martin Engineering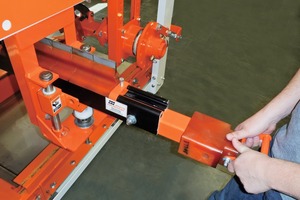 Quelle/Source: Martin Engineering
3 Durch die Wartung von außen sind das Betreten enger Räume und Hereingreifen seltener erforderlich; zugleich wird ein schnellerer Blattwechsel möglich • External servicing reduces confined space entry and eliminates reach-in maintenance, while facilitating faster blade replacement
Quelle/Source: Martin Engineering
Martin Engineering has introduced a new family of  heavy-duty conveyor belt cleaner designs, engineered so the blade cartridge can be pulled away from the belt for safe access and replaced by a single worker. Martin Engineering developed the Safe to Service (STS) blades to secure both primary and secondary cleaners rigidly to the conveyor mainframe, while offering more versatility and easier access. Initially available on the Martin® QC1TM Cleaner HD, Martin® QC1TM Cleaner XHD and Martin® SQC2STM Secondary Cleaner, external servicing reduces confined space entry and eliminates reach-in maintenance, while facilitating faster blade replacement. The result is greater safety and efficiency, with less downtime.
Made of rigid steel, the STS manifold is a circular mandrel fitted with a square shaft on which the blade cartridge is attached. Dual tensioners separately adjust either end of the patented Constant Angle Radial Pressure (CARP) blade on the primary cleaner and the cushioned reversible blade on the secondary cleaner, for a tight, consistent seal on the belt.
Designed for conveyor speeds up to 6.1 m/s and belt widths from 457 to 3048 mm, the STS system is well suited to heavy-duty applications faced by industries such as mining, scrap and coal handling. The rugged QC1TM Cleaner XHD primary cleaning blade removes the bulk of the carryback, equipped with a polyurethane formulation to match the application. Primary cleaner urethane blades come color-coded to suit specific applications and are set in a multi-hole cartridge, allowing the sliding blade rack to be lined up with the material path for effective cleaning. The SQC2STM Secondary Cleaner uses a tungsten tipped blade on a rigid polyurethane base or rubber buffers, which allow the system to handle belt reversals and rollback with no damage to the belt or splice.
The STS design eliminates many of the factors that expose workers to potential injury. To remove the blade cartridge, operators bring the conveyor to a full stop and make sure that no loose material is near the header. Once the area is deemed safe, using appropriate lockout/tagout procedures, they simply disengage the blade cartridge from the tensioner and pull it out far enough to remove the quick release pin. The blade is replaced, pin reset, rack pushed back into position and the tensioner re-engaged. A single experienced maintenance technician can typically perform the replacement, resulting in a total reduction in the man-hours invested.
Many existing systems on the market require workers to enter the chute to perform maintenance and blade replacement. The Occupational Safety and Health Administration (OSHA) calls for employees entering the chute to carry a confined space entry permit, but chute entry can involve up to three people: the entrant, the attendant and a supervisor. By eliminating the need for required permits, valuable labor can be reallocated elsewhere.