Schenck Process Europe GmbH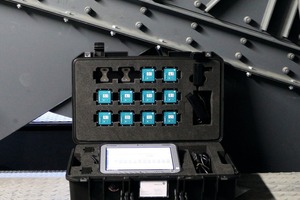 Quelle/Source: Schenck Process
1 CONiQ® Check, mobiles Condition Monitoring System für Siebe und Schwingrinnen • CONiQ® Check, mobile Condition Monitoring System for screens and vibrating feeders
Quelle/Source: Schenck Process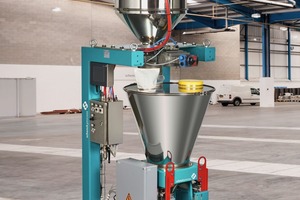 Quelle/Source: Schenck Process
2 MechaTron® Coni-Steel® Vibrationsdosierer mit pneumatischem Fördersystem • MechaTron® Coni-Steel® vibro feeder with pneumatic conveying system
Quelle/Source: Schenck Process
AT MINERAL PROCESSING:

What kind of plants or machinery does your company produce; which are the most important business segments?

Edgar Blum, MD, Schenck Process: Schenck Process develops and manufactures innovative solutions for weighing, feeding, conveying, screening, automation and air filtration technology. 135 years of practical experience in bulk materials handling are a solid basis for this. We improve our customers' processes with regard to reliability, efficiency and precision and score with outstanding equipment and comprehensive process knowledge - in all industrial areas, all over the world. Our performance is accompanied by a broadly diversified service portfolio, always with the aim of optimizing the processes of our customers.
AT MINERAL PROCESSING:

Which highlight will you present at the Solids trade show?
Edgar Blum, MD, Schenck Process:
Besides our comprehensive portfolio of screening, weighing, conveying and dosing technology for the bulk solids industry, we will present two highlights this year: Condition Monitoring Systems and MechaTron® Coni-Steel® vibro feeder with pneumatic conveying system.
CONiQ® Check, our mobile Condition Monitoring System for screening machines and vibrating feeders, ensures safe condition monitoring and acquisition to prevent unplanned downtimes. Thus, preventive maintenance provides our customer's investments with long-term protection.
The customer spontaneously wants to meter the condition of his vibrating machine? This is possible with our new vibe2knowTM app, which provides an overview of the performance of the vibrating machine in a simple and intuitive way.
Set-up – connect – start working. This is the principle of the system, consisting of the MechaTron® Coni-Steel® vibro feeder and a pneumatic conveying system. The robust design of the system with independent dosing frame actively prevents the impact of external vibrations. All systems are operated by only one control unit, the DISOCONT® Tersus. The result: exact, reliable dosing with minimum maintenance cost, maximum feed rate range and stable precision - even at lowest conveyor output.
AT MINERAL PROCESSING:

In your opinion, what is so special about this trade show, and what do you, as an exhibitor, expect of it?

Edgar Blum, MD, Schenck Process: For Schenck Process, the SOLIDS 2017 is a very valuable trade show to get into contact with regional customers in the field of bulk material handling - without wastage. A dialogue-centered contact point for the direct measuring of customer expectations. In particular for the German market, SOLIDS 2017 is the ideal platform to develop existing business relationships, to gain an overview over future trends in the bulk goods market and to enhance our position as the supplier of choice for industry-leading solutions in the process industry.

Stand: C 05 – 4