Six years of heavy-duty service in an opencast mine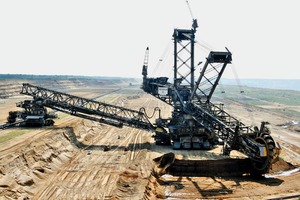 Quelle/Source: RWE Power AG
1 A giant among mining machines: the Excavator 290 at the Hambach opencast mine operated by RWE Power AG
Quelle/Source: RWE Power AG
A total weight of 14 000 t, 240 m length, 40 m width and a height of almost 100 m: these are some of the impressive data and dimensions of the "Excavator 290", which has been operating at Hambach opencast mine of RWE Power AG since the 1970s. Each day it can move up to 240 000 t coal or overburden, which it removes with it 130-t bucket wheel and transports on belt conveyors to the spreader (Fig. 1).
It goes without saying that the four central belt conveyors have a really tough job. Not only on account of the high conveying rates, but also because of the difficult environmental conditions (dust and humidity) and the 24/7 operation, they are exposed to extreme stresses. All the more astonishing is that the two NSK bearings reached a lifetime of six years without requiring re-greasing even once.
Six years ago, with the aim of reducing costs for the maintenance of large machines, the product managers for belt conveyor pulleys at RWE Power carried out a pilot project: In the drive pulley of Belt 2, a sealed double-row NSK spherical roller bearing with conical bore was installed. Now the bearing with an external diameter of 500 mm and a shaft diameter of 300 mm has been replaced as scheduled. Following its removal, the spherical roller bearing was in excellent condition despite high and long-term stresses to which it had been subjected to (Fig. 2).
Key contributions to this were made by the effective sealing as well as the high-grade grease used by NSK and the bearing material "Super-TF" (STF), which NSK originally developed for roller bearings in equipment for the steel industry. STF is a carbonitrided steel which, thanks to a special heat treatment process, has an optimum retained austenite content. Compared with conventional rolled steel, STF bearings enable (with clean lubricant) around twice as long lifetime, even if the grease contains quantities of harmful impurities.