The multi-talents Q-Rohr and Q-Box - new applications of the flameless pressure relief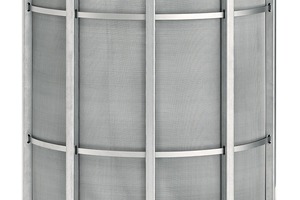 Source/Quelle: Rembe
The Q-tube. There are the most different applications in the bulk solids industry including noise control, which is integrated into the explosion protection, which is needed anyhow
Source/Quelle: Rembe
REMBE continuously further develops the Q-Rohr and the Q-Box - the originals of the flameless pressure relief. Thus, the most different fields of applications have been created, e.g. applications for metal dusts, generators, marine engines and pneumatic conveying of bulk solids. An inspection camera is also a new feature. It is used to inspect quickly and easily the Q-Box from inside within the framework of tests of the explosion protection without being forced to dismantle the inspection openings.
The Q-Rohr – much more than "only" flameless pressure relief
So far an air filter to stop foreign particles as well as solid non-return valves or explosion protection valves, causing a considerable pressure relief, were necessary for suction lines. Now, a modification of the Q-Rohr puts things right. Instead of a filter and a decoupling device they exclusively use the Q-Rohr. This is an economic solution as regards costs of acquisition and maintenance.
The Q-Rohr has been certified as first flameless pressure relief for metal dusts according to DIN EN 16009 and additionally protects LNG or dual fuel marine engines in case of an explosion.
Inspection of the Q-Box is easier than before
From now on, the built-in Q-Box can be inspected from inside. This new device informs the users about the condition of the installed rupture disk within a very short time. Furthermore, the inside of the Q-Box can be inspected quickly after an explosion.
Consulting. Engineering. Products. Service
REMBE uses an own approach. With the four catchwords the specialists for explosion protection in the bulk solids industry express what they have been doing for years, i.e. they inspect plants, develop customized safety concepts and products and they support customers during commissioning and maintenance. Also the rush-order service is becoming more and more popular, i.e. if the customer requests so, an immediate production can be arranged for an extra. This is an attractive offer in times of the reduction of storage facilities.
Hall 3, Stand 207