SOLIDS Basel 2015
Top meeting point for decision makers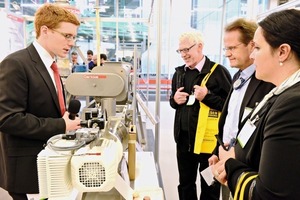 Quelle/Source: easyFairs Switzerland GmbH
1 Kundengespräch am Stand • Customers talk at the booth
Quelle/Source: easyFairs Switzerland GmbH
With six months to go, preparations for the 4th SOLIDS Basel 2015 trade show are in full swing, and are showing a good response from the market: around 70 % of the available space has already been fully booked. More than 1000 visitors are expected at the trade fair for powder and bulk solids technologies from 6th – 7th May 2015 in Hall 2 of the exhibition center in Basel. The second edition of the trade show RECYCLING-TECHNIK Basel will take place simultaneously.
The platform SOLIDS Basel, unique throughout Switzerland, is nationally and internationally renowned. Swiss companies such as AERZEN Switzerland, KAESER Kompressoren, Gericke AG (Fig. 1), ROSTA AG, Endress & Hauser, Ebro Armaturen, Busch-Werke AG, VEGA Messtechnik and WAM use the two exhibition days for promoting the initiation of new projects and the maintaining of customer relations. Compared to last years' total of 83 exhibitors, around 60 exhibition stands were already assigned by mid-November. "This means, the show is filling up very well half a year in advance, and will again be used by numerous suppliers for the presentation of innovative goods and for the generation of business contacts", says Daniel Eisele, Event Director at easyFairs.
International importance
Key industry players are expected from neighboring countries, who will present their solutions to the Swiss market. Among them are the companies Rembe, Kreisel, EMDE, SHA and Schrage Rohrkettensysteme. An important aspect for exhibitors operating throughout Europe is the excellent international networking opportunities that SOLIDS Basel provides. The Swiss show is part of the SOLIDS European Series (SES), the largest bulk solids network in Europe with 13600 visitors and 1100 exhibitors. With important industries such as the chemical, pharmaceutical and food industry within the economic area of Basel, the fair organization of easyFairs considers itself well positioned with SOLIDS Basel. "Here, within close proximity to Switzerland, Germany and France, we have a unique opportunity to promote the topic of bulk solids across borders," emphasizes Daniel Eisele, the Event Director. In this context, easyFairs also relies on strong cooperation partners such as the associations FSKB – The Association for Swiss Gravel- and Concrete industry, DSIV – The German Bulk Solids Association and the IND EX e.V. – Intercontinental Association of Experts for Industrial Explosion Protection, which support and advise SOLIDS Basel.
Focusing on Process Technology
The exhibition spectrum of SOLIDS Basel is focused on the entire value added chain of process engineering of powder and bulk material technologies (Fig. 2). Moreover, machines and processes for the receiving of material, handling (crushing, grinding, mixing, cutting) and processing (screening, filtering, agglomerating, dosing, weighing), in-house mechanical or pneumatic conveying as well as filling, packaging, storage and external transport processes will be shown. Planners and decision makers will find solutions for individual process steps as well as for the connection of such steps. Topics from various inter-connecting branches will also be presented. The focus of the exhibition program will be, among others, on industrial fire and explosion protection, recycling technology and the topic of hygienic design.
RECYCLING-TECHNIK – also in Hall 2
SOLIDS Basel 2015 will be supplemented by the exhibition RECYCLING-TECHNIK Basel, the only fair of this type in Switzerland for this subject area, which will take place simultaneously. "Trade visitors profit considerably from the synergies of both fairs, since they are closely linked by their technical focus and their similar topics", explains Event Director Eisele. "We are also pleased to have strong association partners such as the VSMR," he emphasizes. Industry trends show that recycling technology is a topic of increasing importance in Switzerland, especially at this point in time, where the Technische Verordnung über Abfälle (Technical Regulation on Waste, TVA) is to be completely revised and will also cover the aspect of using recyclable raw materials in the industry.
Experts on Industrial Explosion Protection
Accompanying the exhibition, the SOLIDS and RECYCLING-TECHNIK Basel 2015, in cooperation with partners and associations, will again offer a versatile program with exclusive short lectures, live demos and workshops on current industry topics. These will focus on four main topics in 2015: industrial explosion protection, powdery food and its challenges, materials handling for bulk solids, and work safety and hygienic design.
Source of contacts and inspiration
Following the positive results of the previous years, the exhibition management expects SOLIDS Basel to again attract many trade visitors in 2015. "Over the two days, the fair brings together decision makers, providers and investors for intensive networking", says Daniel Eisele, Event Director at easyFairs. "So many business contacts in one place in such a short time in this branch cannot be found elsewhere in Switzerland."