TurboBelt TT Drive on the H2 belt conveyor in the Prosper-Haniel coal mine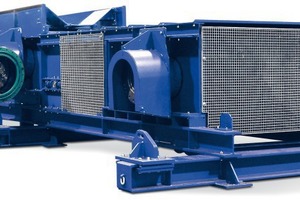 Quelle/Source: Voith
1 The Voith TurboBelt TT Linear Booster Drive allowed RAG to replace a steel cord belt with a cost-saving textile belt
Quelle/Source: Voith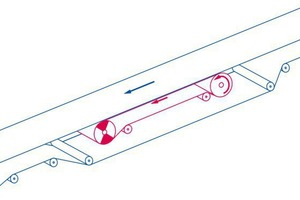 Quelle/Source: Voith
2 Functional principle of the Voith TurboBelt TT Linear Booster Drive
Quelle/Source: Voith
Voith has installed a TT Drive on the H2 belt conveyor in the Prosper-Haniel coal mine without interrupting operation and achieved a comprehensive solution with the subsequent installation of another TT Drive that resulted in sustained cost reduction for the mining company.
With the installation of the first TT Drive, Voith made it possible for the Prosper-Haniel mine to carry on using a heavily damaged steel cord belt (ST5000) until the next scheduled downtime and thus prevented an unplanned shutdown and corresponding production loss. During the next downtime, Voith installed a second TT Drive in the H2 belt conveyor. This allowed for a further reduction in belt tension forces and Prosper-Haniel has since been able to operate the belt conveyor with a cost-saving textile belt (PVG2000/1). Project managers Ralf Dohle and Wolfgang Kosiuk from RAG Deutsche Steinkohle are completely satisfied with Voith's project management and the booster drives: "Voith's solution has provided us with a dual benefit. Not only did we manage to avoid an unplanned shutdown because of the damaged belt, we are now able to use a textile belt instead of an expensive steel cord belt for the system. We would choose a solution from Voith again anytime."
The H2 belt conveyor transports the mined coal over 1270 meters with a lift of 186 vertical meters. Its operating speed amounts to 3.2 m/s with a capacity of 2000 t/h.
The Voith TurboBelt TT Linear Booster Drive is a high-performance secondary drive for belt conveyors. It extends the use of belts in existing systems and increases their available power. In new belt conveyor systems, it reduces the requirements on belt quality, leading to considerable cost savings.
The Prosper-Haniel mine is part of RAG Deutsche Steinkohle and produces 3 000 000 t coal/a. RAG Deutsche Steinkohle has been relying on Voith TurboBelt TT Linear Booster Drives for almost 40 years.