HAVER NIAGARA
Underground processing plant for fluorspar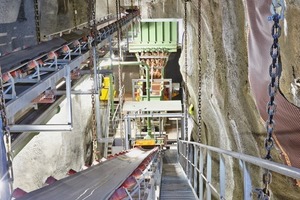 1 Produktionslinie der HAVER NIAGARA GmbH in einer der beiden Kavernen # Production line installed by HAVER NIAGARA GmbH in one of the two underground chambers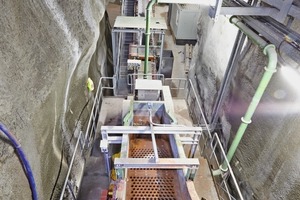 2 Aufgrund der räumlichen Enge war eine maßgeschneiderte Anlage erforderlich # The space restrictions made it necessary to specially tailor the plant to the conditions
The opening up of a new mine in Germany's Erzgebirge (Ore Mountains) in late 2013 marked a milestone for German mining, continuing the tradition in this region, following decades of stasis. The reasons for the extraction of fluorspar and baryte are closely tied to steadily rising raw material prices on the world market. The operator, the Erzgebirgische Fluss- und Schwerspatwerke, chose HAVER NIAGARA GmbH when it came to designing and installing an underground processing plant for the mine in the Erzgebirge. HAVER NIAGARA GmbH took on the challenge to set up a flexible and economically viable processing plant (Fig. 1). Despite the limited space and the high requirements to be met by the processing plant, a tailored plant was designed (Fig. 2) that fulfils the high expectations of the operator to full satisfaction.
The processing plant roughly consists of two independent production lines, which were installed in two parallel underground caverns. In the first process stage, the blasted raw material is removed from the feed bin by means of reciprocating feeders and fed to a NIAGARA scalper (Fig. 3). This reduces the load to be processed in the downstream jaw crusher. The material from the primary crusher is conveyed on a troughed belt conveyor to a NIAGARA screen, which as well as screening off the ultrafine material, splits the material into two sub-streams to feed an X-ray sorting plant. This sorter separates the raw spar from the "dead rock" on the basis of the atomic density. The raw spar obtained in this way is crushed in a cone crusher to the necessary finished grain. The crusher discharge is sent via a downstream ­NIAGARA screen to a loading silo, there the raw spar is loaded onto road trucks.
From there, the material is conveyed to the processing plant above ground on the site of Nickelhütte Aue GmbH, where it is ground and enriched in a flotation plant and then separated into the main components baryte and fluorite. After drying, two high-grade raw materials are produced, which are then sold.
Over the next years, HAVER NIAGARA GmbH will be on hand providing services for EFS to keep the complete plant at its best both economically and ecologically.