Universal transmitter makes sensors "wireless-network-compatible"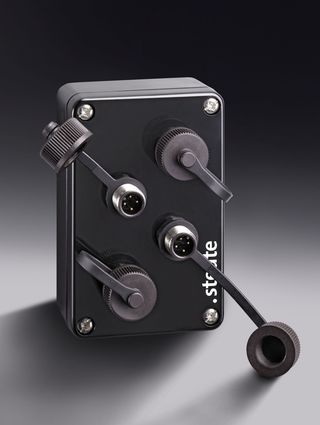 Universal transmitter RF I/O
© steute

Universal transmitter RF I/O

© steute

Wireless network integration opens up new application fields for switches and sensors – for example optimisation of in-house material flow using eKanban systems. A prerequisite is that all components are suitable for radio transmission. However, this does not necessarily mean an integrated radio module: a separate external universal transmitter does the job just as well. The new products of steute Technologies include an I/O unit permitting existing mechanical switches and e.g. non-contact sensors to be integrated in an sWave.NET wireless system. The new RF I/O-NET wireless universal transmitter facilitates the wireless transmission of signals from switches and sensors which are actually cabled. For users of wireless networks, the range of network-compatible products has therefore widened. This has advantages not only when planning new wireless systems, but also when retrofitting existing plants with wireless networks. The "little" RF 96 ST-NET wireless universal transmitter for one switch or sensor will remain in our product range. Like all nexy components, the devices can be programmed remotely and conveniently via the user interface of the wireless system.