1991-2021: Simex celebrates thirty years from its foundation
12.03.2021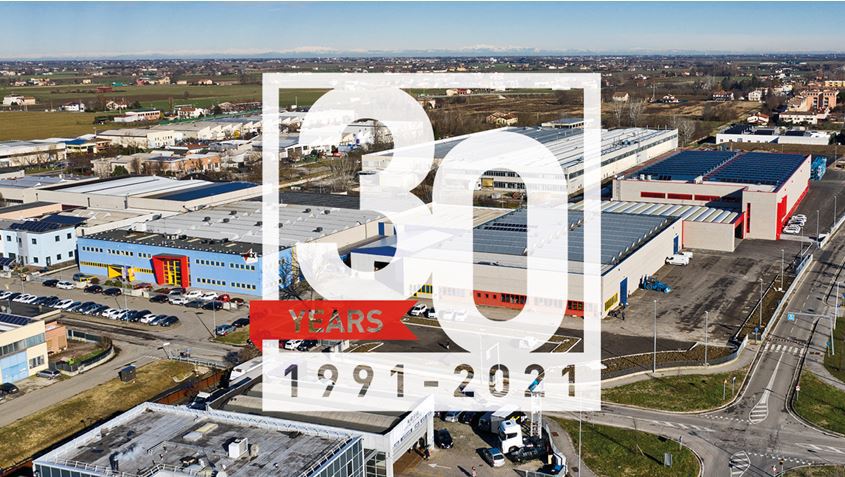 © Simex Simex was founded in 1991 in San Giovanni in Persiceto/Italy, in the production district of Emilia, thanks to the passion, expertise and commitment that have long been hallmarks of this area. The company has continued ever since to develop new attachments suitable for various fields of application. Tens of patents applicable to roadworks, infrastructures and utilities, as well as for demolitions, constructions and quarrying.
From the first assembly lines, which allowed the company to do most of its processing in-house, to the new headquarters in 2003, Simex keeps on growing, becoming well-established in international markets. Production facilities have been expanded in order to accommodate a wider product range, with a view to increasing quality, production and R&D capacity. Over the last 30 years, the company has become the technology partner of choice for thousands of earthmoving industry professionals worldwide.
With continuous investments and a global vision proudly rooted in its history, the company's production plant in San Giovanni in Persiceto now covers a total area of 48 000 m², of which 18 000 m² of indoor space. The year 2020 was marked by numerous challenges, some more difficult than others, which Simex boldly addressed by investing further in facilities and logistics, increasing its R&D efforts and, last but not least, focusing on developing its human capital. Today, 30 years since its inception, Simex boasts a state-of-the-art production department, capable of producing up to 500 units per month during peak demand periods. A large amount of space is dedicated to testing equipment so as to ensure the highest quality standards: every area is reserved for a specific type of product.
At the end of 2019 a spacious indoor logistics area of 7500 m² has been opened up to ensure increased stock capacity and, as a result, shorter delivery times. The new warehouse is just the latest in a series of structural implementations Simex can count on:
•Automated vertical warehouses
•Boring and robotic welding stations allow Simex to improve the quality of its components, such as drums and cutting wheels, while ensuring high safety standards
•A demo area has recently been relocated to allow for testing and ongoing product development, simulating all fields of application
•Meeting rooms, offices and, in general, corporate spaces have been redesigned to create dynamic and interconnected work environments, also remotely
This is all complemented by a prompt customer and after-sales service and an extensive sales network covering over 80 countries. 30 years of close relationships with local distributors and national importers. A branch office in Russia and, from January 2021, in the USA.