Smarter and lighter mining equipment with Hardox® wear plate
07.02.2020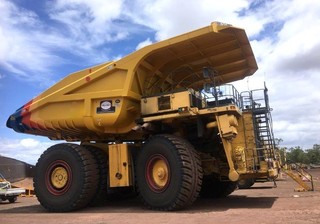 Truck tray
© SSAB Using Hardox® wear plate and Strenx® performance steel from SSAB, Australian Taurus Mining Solutions has managed to lower the weight of its mining buckets, increasing the capacity of the buckets by up to 10 % while still keeping their durability. This translates into cost savings for customers. Taurus's production also benefits. Formed through a joint venture, Taurus Mining Solutions brings together design expertise and substantial experience from manufacturing and aftermarket services. The result is high-quality mining equipment, such as truck trays, excavator buckets, loader buckets and dozer blades.
Taurus 996A bucket
© SSAB

Taurus 996A bucket

© SSAB

Taurus aims to increase customers' production rates, reducing overall operating costs and improving safety. So the company chose Hardox® wear plate and also, in some chosen parts, Strenx® performance steel from SSAB. The result is a mining bucket that weighs one ton less compared to the previous model – meaning also improved bucket life and decreased downtime. As an example, a mine site in north Queensland/Australia, is currently using a bucket and tray combination that improves productivity by 10 – 18 %.

The Taurus buckets are mainly used for loading and transporting coal and soil. The company's biggest bucket is for 5600-model excavators, carrying roughly 36 m³ of product. For the bucket's wearing areas, Taurus, a Hardox® In My Body customer program member, mainly uses Hardox® 450 steel. The sheet sizes vary. Sidewalls are usually around the 25-mm range and the cheeks around 80 – 100 mm.

Some Strenx® performance steel is also used in the bucket, at high-stress points such as the hitch and the torque tube areas, to withstand the weight of the bucket and the operational forces of the machine. The use of Hardox® and Strenx® steels also benefits Taurus's production process by improved fabrication times and less pre-heating.